Jon Stewart Fires Back At Rick Sanchez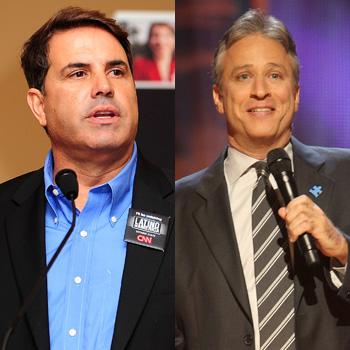 Jon Stewart used his appearance Saturday night at an autism fundraiser to fire back at CNN personality Rick Sanchez, RadarOnline.com has learned. Sanchez was canned by his cable net for calling Stewart a "bigot" and claiming that the networks are all controlled by Jews.
Comics Who Have Made Racist Rants
After making a serious pitch for autism education during Comedy Central's 'Night of Too Many Stars' benefit, PopEater reports that Stewart joked, "If you went on radio and said the Jews control the media...you may want to hold on to your money."
Article continues below advertisement
Then Stewart added that all Sanchez has to do "is apologize to us, and we'll hire him back."
David Letterman made a surprise appearance at the event, and got into the Sanchez action too, reports Gossip Cop, quoting the late night host as saying he was "helping Rick Sanchez clean out his desk."
The Night of Too Many Stars airs on Comedy Central October 21.
Related Stories:
VIDEO: David Letterman Explains Why Oprah 'Hates' Him