Exclusive
EXCLUSIVE: Sarah Palin 'Threatened And Intimidated' By Alleged Teen Stalker, Says Her Lawyer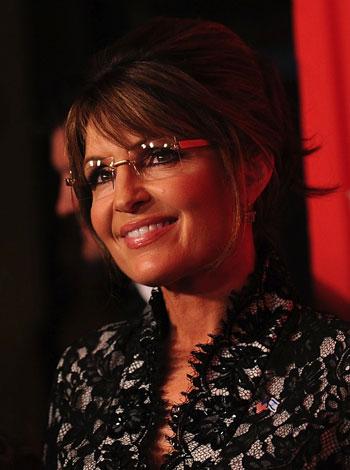 Former Vice Presidential candidate and former Alaska governor Sarah Palin felt "threatened and intimidated" by alleged teen stalker Shawn Christy who bought a gun and then sent her the receipts. RadarOnline.com spoke to her lawyer Tom Van Flein about what happened behind the scenes and about how the incident affected Palin and her family.
Last week, Palin was granted a temporary restraining order against the 18-year-old. Her lawyer Tom Van Flein says the Palin family took the teen's threats "very seriously."
Article continues below advertisement
Read Legal Documents Here
According to court documents, the troubled teen sent receipts from a gun purchase to Palin and her longtime friend, Kristan Cole. In a rambling letter he also said he had tried to follow the bible but had 'evil and wickedness' in him.
Van Flein told RadarOnline.com: "Both Sarah Palin and Kristan Cole felt intimidated and threatened and they took his actions very seriously indeed.
"Let's be clear about this - it was a lot more than just talk. He purchased a gun then sent the receipts. After he called Kristan Cole we decided to take action because we feared for their safety and we acted swiftly in getting the restraining order to protect both women from this individual."
VIDEO: Was Sarah Palin Booed At DWTS? ABC Explains Mystery Jeering
Christy had allegedly been sending threatening e-mails and letters to Palin for more than a year.
Article continues below advertisement
A court document stated: "Petitioner and counsel allege that the respondent has made numerous implied threats in his telephonic and written communication, including references to his guns - telling petitioner that she better watch her back and saying that he is buying a one-way ticket to Alaska and sending the receipt for purchase of the guns."
Palin testified that Christy was delusional in his statements that he has had direct communication or contact with her or her daughter.
MORE ON:
Celebrity Justice
Article continues below advertisement
EXCLUSIVE VIDEO INTERVIEWS: Bristol Palin Survives First Week Of Dancing With The Stars
The court document stated: "Petitioner also testified that respondent has falsely claimed to have had a sexual relationship with petitioner."
In his correspondences with Palin, Christy allegedly signed his letters to her with the words, "your magic enemy."
Cole, 48, claimed in her court testimony that Christy had told her that he had an affair with Palin and that "these accusations led her to believe the respondent was delusional."
Cole said Christy called her and told her that he had landed in Alaska.
"Petitioner is concerned because the respondent appears to be unstable and has stated that he believes petitioner is evil and that she needs to be punished and that he is coming to confront her to get her to tell the truth," the documents continued.
But Christy's family has maintained that the teenager was in Pennsylvania at the time he was accused of being in Alaska.
Article continues below advertisement