VIDEO: Levi Johnston Regrets Apologizing To Sarah Palin; Weighs In On Bristol Dancing With The Stars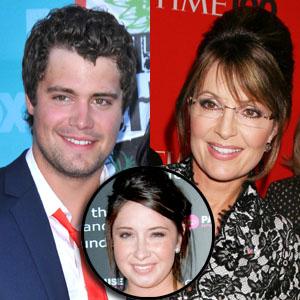 Levi Johnston is sorry he said sorry.
Watch the clip on RadarOnline.com
The Playgirl magazine cover boy told the CBS Early Show Friday he regrets issuing a statement in which he apologized to Sarah Palin after he was briefly engaged to her daughter (and his baby's mother) Bristol in June.
"I don't really regret anything," Johnston, 20, told CBS. "But the only thing I wish I wouldn't have done is put out that apology 'cause it kind of makes me sound like a liar. And I've never lied about anything. So that's probably the only thing. The rest of the stuff I can live with."
Article continues below advertisement
Johnston said he only agreed to put his name on the apology in the first place to placate Bristol, who at the time he was engaged to.
Johnston and Sarah have feuded in the media on- and off- again, hitting a fever pitch last October when Levi claimed that Palin would use the term "retarded" when referring to her son Trig, who has Down Syndrome. Sarah Palin, returning the fire, mocked Johnston's show business aspirations, calling him "Ricky Hollywood" in an interview with Oprah Winfrey last year.
The Alaskan heartthrob also discussed his political aspirations on the Early Show, as he's filed paperwork to run for mayor in Wasila, Alaska as part of an upcoming reality TV project he's working on.
"I can't guarantee or promise you anything but I'm gonna try... that's the goal," he said, adding that he's "going to have to give Hollywood up for three years" if he wins.
EXCLUSIVE: Levi "Doing Well" and "Upbeat" After Breakup With Bristol
Article continues below advertisement
"I really don't think it's about qualifications," Johnston said of his merits as a candidate. "It's really about, you know, the people liking you and believing in you ... obviously, you want people's votes, and at the end of the day, it is kind of popularity."
Johnston also discussed Bristol's upcoming stint on Dancing with the Stars, noting that she's just as hungry for the limelight as he is.
EXCLUSIVE: Bristol "Heartbroken" Over Levi's Girlfriend's Pregnancy
"I don't think I'm any more obsessed with making a career out of this than she is... obviously, she's doing Dancing With The Stars," he said. "I wouldn't say I'm obsessed with fame. I'm just taking the opportunities as they come."