Exclusive
EXCLUSIVE: Reality TV Stars Alex Jacobs And Melody Pinkerton Engaged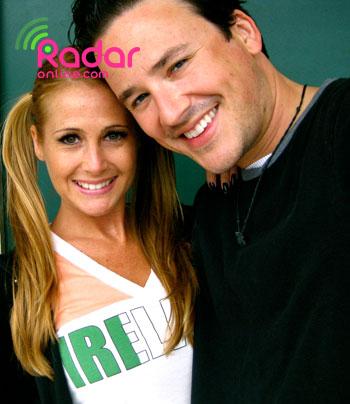 Alex Jacobs from ABC's The Mole and Melody Pinkerton of VH1's Frank the Entertainer: A Basement Affair are officially engaged, and RadarOnline.com has all the exclusive details.
"We have the most amazing reality love story and want to share it with the world," Pinkerton told RadarOnline.com in an exclusive interview.
"We are excited about our future together and who knows what it will hold, and I will be the luckiest lady in the world to have Alex in my life forever."
Article continues below advertisement
Just a few short weeks ago while sitting on a surf board, Jacobs swam up to Pinkerton overly excited about what he found while snorkeling - a starfish wearing a diamond engagement ring - and without hesitation Pinkerton said YES!
"We are working on the official date this week but we know it will definitely be in Costa Rica. That is set in stone," Jacobs told RadarOnline.com.
In keeping with their reality-TV theme, the two will be saying their official "I do's" in front of the world on their new reality show Alex's Melody.
"I have found the Melody in my life!" Jacobs exclaimed.
The show is currently being filmed on location at the couple's home in Costa Rica, which in a bizarre twist is just doors down from a home owned by Mel Gibson.
"Being on the show was an incredible experience and I will always cherish the relationships that I made," Pinkerton said.
"You could say that only someone who has been in the same shoes could understand."
Article continues below advertisement
Having to stand up for myself and the person that I am on national television was not an easy place to be," Pinkerton said of her stint on the hit VH1 show.
"But being the smarter person in that situation made all the difference in the world."
In addition to Pinkerton's exciting engagement to Jacobs she will be battling it out at a Celebrity Boxing event on October 14 where she will be fighting Snooki's arch nemesis, Lachia Damis.