VIDEO: Sister Wives Patriarch Says Polygamy Is 'Faith Belief'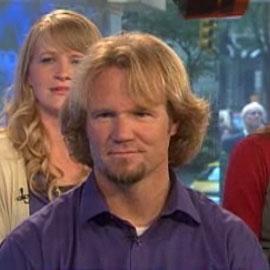 The cast of TLC's Sister Wives appeared on the Today Show Thursday to discuss their brand new reality TV show, a real life version of HBO's Big Love that documents the lives of an authentic polygamist family composed of one husband, three wives, 13 kids, a bride-to-be and another baby on the way.
Watch the clip on RadarOnline.com
"I just fell in love, then I fell in love again, then I fell in love again," said Kody Brown -- who appeared on the show with his wives Meri, Janelle, and Christine, as well as his fiancée Robyn -- in a preview clip.
Article continues below advertisement
VIDEO: Michelle Duggar Announces 'Someone's Expecting!'
Brown, who told Meredith Vieira he was not raised in a family embracing such ideals, said he took on polygamy as "part of a faith belief."
Meri, who is Kody's first (and only legal) wife, told Vieira: "At the time that we got married, we both knew this was something we were going to live."
Janelle called the family's life choice "a faith decision.
"The faith is about family, working together and overcoming our faults and raising beautiful children and having a beautiful family," she said. "That's the way we interpret it."
Kody said he likes to refer to polygamy as "accelerated personal development."
The family has been living altogether for 16 years. Meri said that the kids prefer to live in one big house, and all of them go to public school.
And as for jealousy between the wives?
Article continues below advertisement
Christine said, "I think women, all of us, needs to feel confident in who you are," while Janelle said jealousy is a "mark of insecurity."
Robyn said she never feels jealous, as the wives get a "part of this really great, awesome person."
Asked why they are exposing their lifestyle to the masses via reality TV, the wives said they hoped to ease misconceptions about the practice.
Janelle said, "There is a lot of fear in our culture about the government... we're hoping we can open this up," while Robyn said "there's a lot of bad media" which furthers the stigma polygamist families are often faced with.