Exclusive
EXCLUSIVE PHOTOS & VIDEO: The Sex Tape Tila Tequila Doesn't Want You To See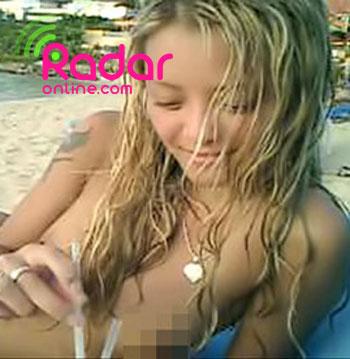 This is the tape Tila Tequila doesn't want you to see, and only RadarOnline.com has it.
Watch a family-friendly snippet of the xxx video -- and view the racy stills.
The homemade sex tape was shot back in 2004 with an ex-boyfriend before the Shot At Love star made it big on MySpace and MTV.
Tila went to court to file an injunction prohibiting the release of the sex tape, but a judge denied the motion on Thursday.
Article continues below advertisement
The video shows a much younger and innocent looking Tila frolicking in the ocean wearing a leopard print bikini.
Still images from the video show the future reality TV star lying topless on the beach and posing in a number of compromising positions.
As RadarOnline.com revealed, the scorned ex is allegedly trying to extort her for $75,000.
Tila lost a legal fight over the tape in a Los Angeles court on Thursday.
Her attorney argued the sex tape was an invasion of Tequila's privacy and a misappropriation of her image.
But at a hearing, a Los Angeles County Superior Court judge rejected the argument, citing how "Tila exploits her sexuality".
Tila went to YouTube.com to sound off about her sex tape, but labeled it "something special" made with someone she loved.
"If you're watching this right now buddy, you are in major, major trouble," she said to the ex in the video.
Article continues below advertisement