Exclusive
EXCLUSIVE: Paris Hilton Is A 'Step-Mom' To New Boyfriend's Young Daughter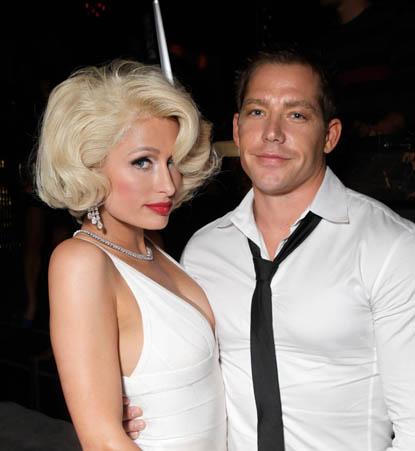 Paris Hilton is proving to be a stand-in mother for new boyfriend Cy Waits' seven-year-old daughter Shea, RadarOnline.com has learned exclusively.
It's a sudden change of pace for the hard partying hotel heiress, who was arrested in Las Vegas in August with cocaine in her purse.
"Cy is a dad and he is combining his part time parenting duties with his fledgling romance with Paris," said a source close to the couple.
Article continues below advertisement
While Paris is not yet officially a 'step-mom', she has made no secret, in the past, about wanting to become a mommy dearest.
"It's been my dream to have four babies by 30," the heiress, 29, said a few years ago.
SHOCKING PHOTOS: Are These Stars Too Skinny For Hollywood?
And Hilton thinks she's highly qualified for motherhood, explaining, "I look after animals, so I'd have a lot to give my kids."
Paris and Cy Waits have been dating since her split from former beau, Doug Reinhardt, in April.
And since that time, the new lovebirds have never shied away from engaging in public displays of affection at numerous occasions.
It's also been a dramatic start to their romance, after Cy, a former nightclub tycoon, was also arrested for driving under the influence on the same night Paris was nabbed with the illicit drug.
The pair has also fought off controversy about a hit-and-run after Cy hit a photographer outside a Hollywood restaurant.
Article continues below advertisement
"Cy is way too rough around the edges to be taken into such a loving family like Kathy and Rick Hilton's," said one source, who knows Cy.
But he has been labeled Paris' hero after spotting an intruder at her home, peering through a window and carrying two knives.
Cy immediately grabbed his gun and ordered the man to drop the knives and lay on his stomach until cops arrived.
According to a source close to the couple, Cy's baby mama to daughter, Shea, used to be a cocktail waitress at one of his Las Vegas establishments.
Cy co-owns Las Vegas hotspots XS, Tryst and Drai's in Hollywood with his twin brother Jesse.
And in an instance worthy of a Hollywood version of Six Degrees of Separation, it has also emerged the hotel heiress' new beau dated Rachel Uchitel - former mistress to Tiger Woods and David Boreanaz who was also previously linked to baseball stars Derek Jeter and Alex Rodriguez.
"Rachel and Cy dated for about six months," said a source who knew both of them.
Article continues below advertisement
"At the time Rachel was working for Tao in New York but would fly to Las Vegas to be with Cy, from Sunday to Tuesday."
The source tells RadarOnline.com that the relationship ended when Uchitel began to question Waits' commitment to the relationship.
"Their relationship went sour after Rachel learned he had been cheating on her when she back in New York," the source said.
RELATED STORIES: