Exclusive
EXCLUSIVE: Victim Of Paris Hilton Hit & Run Bruised, Tells Radar -- 'All I Can Think About Is That Car Coming At Me!'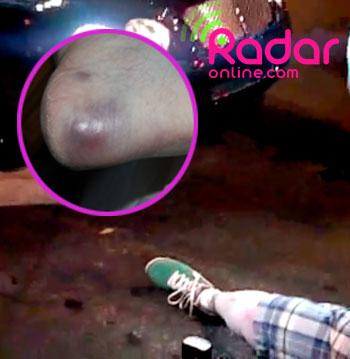 Paris Hilton and boyfriend Cy Waits were involved in a hit-and-run Wednesday night in West Hollywood and RadarOnline.com has the exclusive photos of the female victim's injuries.
"It was more scary than anything because all I could see was this car still going and rolling on top of me," hit-and-run victim and part-time paparazzi Carol told RadarOnline.com in an exclusive interview.
"And that's what I thought about when I got home from the doctor; I'm lying in bed and all I can think about is that car coming at me!"
Article continues below advertisement
Although Carol says the incident was scary and may have put a permanent halt to her paparazzi career, she's empathetic to Hilton and Waits saying she takes half the blame for the incident.
"I think we're both at fault and I feel bad. It was just a freak accident," she says.
"I'm not out to harm her Paris or him Cy and I'm sure they weren't out to harm me. But he does need to realize that you can't hit people with your car, and I also at the same time can't be out on the street hanging over the hood of a car taking pictures of people."
Carol says she was released from the hospital at about 4:30 a.m. on Thursday morning and surprisingly escaped the incident with no broken bones, although she was sent home with crutches and is using a walker.
SHOCKING PHOTOS: Are These Stars Too Skinny For Hollywood?
"I didn't break anything, just some bruising. My heel and my ankle are swollen and bruised," Carol says of the injuries sustained after Waits' car rolled over her right foot and leg.
Article continues below advertisement
"I just want it all to be over and I wish it never happened."
As previously reported by RadarOnline.com, the hit and run was captured on video which has been viewed by many – including Carol.
"When I watched it all I could think about was how bad my mom would feel seeing my face in that much pain," she says.
"This whole incident might just make me stop it forever," Carol said of her part-time paparazzi gig.
"I just do it on the side…but maybe not anymore. Not after last night."
Carols tells RadarOnline.com she hasn't been contacted by Hilton or Waits regarding last night's incident, but she is planning to reach out to Hilton's camp at some point today.
Police were called to the scene Wednesday night after the hit and run was reported and police were later seen questioning Waits and giving him a field sobriety test.
Article continues below advertisement
Authorities tell RadarOnline.com that Waits was "detained" but later released. He was given a citation and will appear in court at a later date.
"They're waiting for the radiologist to take a second look at the x-rays and then they'll send me back in for a check-up," Carol says. "I just need to keep my foot up and let it heal."
RELATED STORIES:
VIDEO & PHOTOS: Paris Hilton & Cy Waits Involved In Hit & Run; Cops Called To Scene