Paris Hilton Tweets About Incident With 'Aggressive Paparazzi'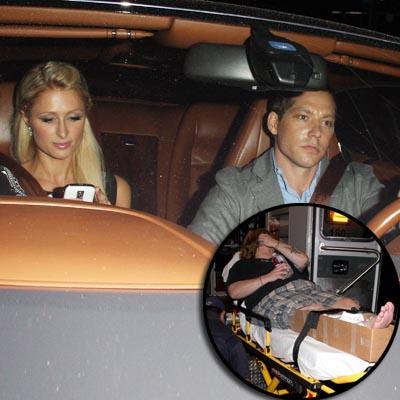 Paris Hilton's broken her silence via Twitter over the alleged hit-and-run accident she was involved in Wednesday night, RadarOnline.com has learned, as her boyfriend Cy Waits was seen -- on video -- running over the leg of a female photographer outside the swanky West Hollywood restaurant, Boa.
"Lovely evening with friends and family ruined by aggressive paparazzi," she Tweeted. "They are literally insane!"
Article continues below advertisement
As RadarOnline.com previously reported, video of the incident clearly shows Waits driving his Bentley when he ran over the leg of a photographer identified as "Carol."
Police were subsequently summoned to the scene and questioned Waits, as well as administering a field sobriety test. As of early Thursday, no charges had been filed in the case.
Its the second run-in with the law for Waits and Hilton in the past five weeks, as both were arrested August 26 when authorities in Las Vegas pulled over the Cadillac SUV the couple was riding in, claiming to have smelled marijuana coming from it. Waits was arrested on suspicion of misdemeanor driving under the influence of alcohol or drugs; Hilton was also brought into custody after police found cocaine in her designer purse.
After her initial Tweet, Hilton stayed up for another hour Wednesday, later Tweeting: "Gong to bed. Sweet dreams everyone. Love Paris xoxo."