Exclusive
EXCLUSIVE: Lindsay Lohan Is Taking Her Counseling Seriously This Time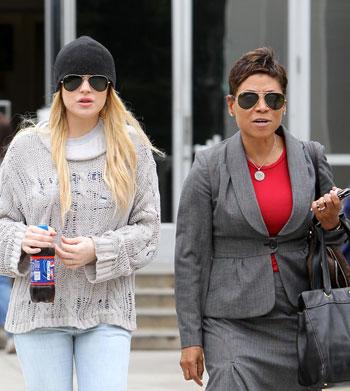 Before she was sent back to the Betty Ford Center by Judge Elden Fox, Lindsay Lohan received some tough advice from her lawyer Shawn Chapman Holley, RadarOnline.com has learned exclusively. A source says Lindsay currently seems to have taken her words to heart.
When Lohan appeared before Fox, the judge made it clear to Lohan that she faced six months hard jail time if she provided another dirty drugs test before her next court date on February 25, 2011. Holley then had a serious conversation with Lindsay because, "she wanted her to know the consequences if she messed-up again," a source tells RadarOnline.com exclusively.
Article continues below advertisement
At present, Lohan is trying to adjust to being back inside the Betty Ford Center as she tries to get her life and career back on track. "At the moment she is finding it tough being in rehab and she misses her friends and family," the source said.
"She only has one hour of internet access per day and she is using this to stay in the loop with her family and friends while trying to do some career stuff too. Lindsay has not made any great friends inside the clinic, she is just trying to keep her head down and get on with things."
As for the treatment, Lindsay is "taking the counseling seriously though and knows that she is in a place where she is getting help for her problems."
RadarOnline.com has learned that the star is having trouble playing the $150,000 bill for her stay at Betty Ford.
Adult website Tube8.com has offered the Hollywood wild child a job that they said would "cover the anticipated $50,000 fee for Ms. Lohan's rehabilitation at the Betty Ford Center." The site has offered her a marketing consultant job and -- in an added bonus -- will give her unlimited access to their porn collection.
MORE ON:
Shawn Chapman Holley
Article continues below advertisement
Lohan, 24, has been at the Betty Ford Center in Rancho Mirage, California since September, where she's been undergoing treatment for cocaine addiction- a story first reported by RadarOnline.com.
In court Judge Fox told the actress: "If you can make it until Feb. 25, I will make it unsupervised probation. You can put this long episode behind you if you are serious about this."
Related Stories:
EXCLUSIVE: Judge Refuses To Meet With Lindsay Lohan Lawyers Before Court