EXCLUSIVE: Jeremy London Calls Testifying In Court 'An Advancement In The Pursuit Of Justice'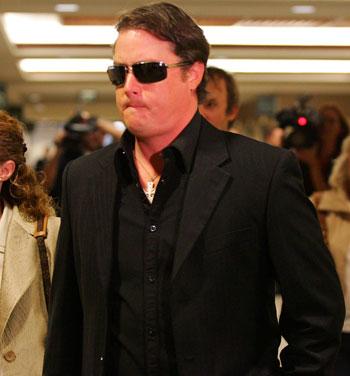 Jeremy London finished testifying in the preliminary hearing connected to his alleged kidnapping case on Tuesday and he has a message for his doubters -- you're wrong.
After telling the court that accused kidnapper Brandon Adams "had a gun to his head," London spoke to the media outside the hearing.
"I'd personally like to extend my gratitude to the authorities that have worked tirelessly despite false rumors, public scrutiny and slanderous statements to thoroughly and professionally investigate the traumatic ordeal I endured this pas June," he told reporters.
Article continues below advertisement
"Today's hearing is not only a major advancement in the pursuit of justice, but also for my personal journey towards achieving closure. I'm just going to go home to hold and kiss my son."
As RadarOnline.com reported exclusively, London does not have custody of his 3-year-old son Lyrik with soon-to be ex-wife Melissa Cunningham.
Both he and Melissa must undergo drug testing because of a previous history of drug abuse and can have supervised visits with Lyrik, who lives with Melissa's mother in Palm Springs.
In court Tuesday, London was questioned by the prosecution about the night of his alleged abduction.
London explained that he had a flat tire outside of a 7-11 after going to a CVS, where he and his wife had picked up a prescription of the powerful sleeping aid Ambien.
London - who said he has sleeping problems - testified he took an Ambien on his way to his hotel where he was staying with his wife.
The Mallrats star testified that two men helped him fix the flat tire, and then asked for a ride home in return.
Article continues below advertisement
The actor said he drove Adams around, referring to it as "a (wild) goose chase.. we just weren't getting to a location...
"I was scared... I was starting to shake...It was getting bizarre."
London testified they then pulled up in front of an abandoned house and stopped the car when Adams saw two of his friends. London said the two men got in his car.
London said one of the guys in the passenger seat reached into his pocket and pulled out a gun and put it to his (London's) head.
Article continues below advertisement
London said they drove him around, and then eventually let him out of the car.
"Brandon asked me to buy him a beer.. so I did", London testified.
"I was scared, but i didn't want them to think I was scared.. I thought I was never going to see my son."
Jeremy said they went to a local liquor store called Julians, where they purchased $300 worth of liquor with one of the men called "Little N" standing by him.
Article continues below advertisement
London said they went back to the same liquor store two more times to buy more alcohol after they gave away some of the liquor to Brandon's friends.
He said the third and final time they went back to Julians, he purchased a case of beer and put $13 on his credit card.
London then testified that they went to buy drugs with his money.
He said "Little N" threw a pill at him (he said the pill was Ecstasy) and made him take it, saying "he had a gun to my head".