Exclusive
EXCLUSIVE: Jeana Keough Double Dates With OC Housewife Castmate's Ex-Husband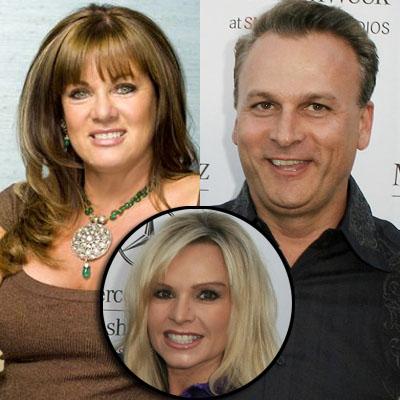 Since saying goodbye to the Real Housewives of Orange County mid-way through last season, Jeana Keough still keeps in touch with her fellow castmates -- even the house husbands -- and goes on double dates!
Although she may not see her former co-stars that often, believe it or not, Jeana has sparked a special friendship with Tamra Barney's estranged husband Simon Barney.
"I see Simon. We've had dinner like once a week for the last two weeks," Jeana told RadarOnline.com exclusively.
Article continues below advertisement
EXCLUSIVE VIDEO INTERVIEW: OC Housewife Tamra Barney Says She's Giving Up Botox
Last month Simon was arrested on suspicion of domestic violence after allegedly throwing a dog leash at Tamra.
They have been going through a bitter divorce battle since Simon filed paperwork last year.
"This is something new. We'd run into each other right when he got out of jail. Everybody thought I bailed him out and I didn't," Jeana revealed. "We just remembered how much we enjoy each other and we're both good at giving each other advice. So we double date!"
But don't worry O.C. fans, it's not what you think.
"He's with this new girl, he's dating. He's very happy, very happy," she said. "She's a banker, in her 30s, she's intelligent and cute and doesn't wear any makeup and dresses low key. She's a business girl."
Jeana also went through a very public break-up with her husband, former pro baseball pitcher Matt Keough, on the reality show last year -- and her kinship with Simon began with her daughter Kara.
Article continues below advertisement
"He's always been there for Kara. My daughter went through some really tough times and Simon was there for her giving her any advice she needed because she didn't have a father to turn to so she turned to Simon a lot of times and they had a really quirky relationship," she said. "He just helped her a lot. So I've never forgotten that.
"When she went through a rough spell he would take her calls. She would be angry at me for something and he would straighten her out. It never showed on TV but he's a very level headed, great guy.