Exclusive
EXCLUSIVE INTERVIEW: Raising Sextuplets' Bryan Masche Pleads: 'I Want My Wife Back!'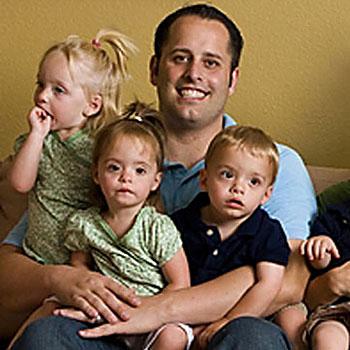 Raising Sextuplets star Bryan Masche is working hard to piece together his shattered marriage and bring his family back together.
In an exclusive interview with RadarOnline.com, the reality TV dad opens up about the fallout from his arrest, his relationship with estranged wife Jennifer, and what he is doing to try and reunite his family.
The father of six's life was turned upside down after Jennifer, his wife of six years, filed for separation from him at Yavapi County Superior Court on October 17.
Article continues below advertisement
He is due in an Arizona court on Thursday, September 7 in connection with his arrest.
He said, "I think the pressure and pace of both our lives just got too much and we stopped putting each other first as a lot of married people do."
While he admits their reality show "added stress" on their relationship, it "was not the sole reason" for their split.
"Jennifer and I had actually talked about it in Florida and I knew that we had reached a breaking point in our relationship," Bryan revealed.
Article continues below advertisement
He continues to struggle with the repercussions of his arrest and insists the incident does not define who he is.
"I am a good person and a great dad despite what a lot of people may think of me following my arrest," Bryan added.
"During the last nine months when we stayed in Florida I looked after our kids while trying to get my business started so Jennifer knows that I am a responsible person."
Bryan hopes Jennifer will find it in her heart to move on and rebuild their relationship.
"I forgive her for any mistakes that she might have made in our relationship just like I hope she will forgive me too," he said.
"I made my vows when I married this beautiful women and I still hold out hope that we can still get back together."
Masche told RadarOnline.com that he had not been unfaithful to his wife and that he did not believe that she was seeing anyone else either.
As RadarOnline.com previously confirmed, the couple left Florida and are now living separately in Arizona.
Article continues below advertisement
Although she has physical custody of their six kids, Jennifer allows Bryan to see them once a week.
While their relationship is still terse, they are in regular contact over the phone.
AUDIO - Hear The 911 Call On RadarOnline.com
"We talk on the phone and at the moment I'm getting to see my kids once a week - hopefully this schedule will change in the future," Bryan said.
"I desperately miss my kids and still love my wife but all I can do just now is take care of myself and put my trust and faith in God that we will get back together.
"I think Jennifer probably needs some space to think things through right now but she knows where I stand with regard to our relationship."
Currently, Bryan is seeing a counselor who he hopes Jennifer will see as well.
"Despite everything that has happened Jennifer is still the love of my life but only God knows what will happen with us in the future."
In the separation papers, Jennifer is seeking child support but is requesting an order from the court to determine that neither party pay spousal support to the other.
Article continues below advertisement