EXCLUSIVE INTERVIEW: Michael Lohan: Attacker Just 'Jumped And Slashed'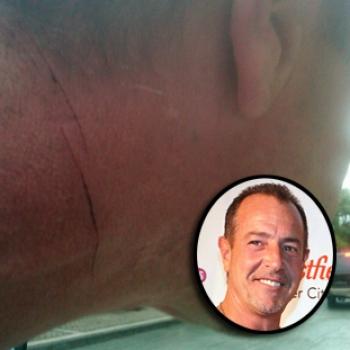 Michael Lohan Friday exclusively gave RadarOnline.com his harrowing account of being attacked in Santa Monica Thursday night, which left him with minor injuries to his neck and forearm.
"I don't know what it was ... they didn't ask -- or try to take -- my money," Lohan, 50, told RadarOnline.com exclusively. "They just jumped and slashed.
"I just fought him off and chased him," he continued. "His blood is all over my car."
Article continues below advertisement
According to the Santa Monica Police Department, who took a report of the incident at 9:50 pm, Lohan was getting into a car outside a home in the 1600 block of Appian Way, when the attacker assaulted him from behind, cutting him with an unknown object on his neck.
The attacker fell down, police said, before getting back up and running from the crime scene. Lohan chased his attacker until he noticed he was bleeding, and was subsequently treated at the scene.