Exclusive
EXCLUSIVE: Betty Ford Tells Lindsay - 'Deal With Your Dad, Once And For All'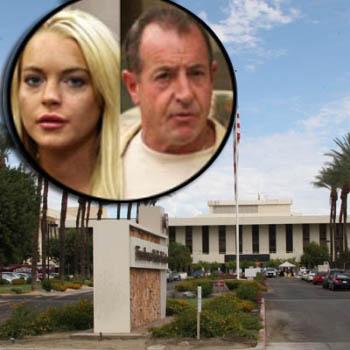 Lindsay Lohan has been told by her treatment team at the Betty Ford Center that she must come to grips with what role, if any, her dad Michael will play in her life once she leaves rehab.
A source close to the Mean Girls star, 24, tells RadarOnline.com: "Lindsay blames a lot of her problems and issues on her dad. His name comes up constantly. Lindsay has a lot of unresolved feelings and anger towards Michael."
Article continues below advertisement
The insider told RadarOnline.com that Lindsay's counselors say it's time she deal with her feelings about her dad once and for all.
"Lindsay does love Michael. If she didn't, she wouldn't continue to lash out at him," the source said.
"However it's extremely unhealthy for Lindsay. In order for her to succeed with her sobriety once she leaves Betty Ford, she must decide if she wants a relationship with Michael or not.
"If she doesn't, then she needs to move on and realize she isn't a bad person for not wanting him in her life."
One of the obstacles preventing her from making this decision is the resentment she feels every time Michael talks to the press.
According to the source, Lindsay "absolutely despises the way that Michael tries to get attention in the press by using her name. Lindsay simply can't trust him."
Article continues below advertisement
The insider tells RadarOnline.com that Lindsay is working to develop boundaries in treatment and that it's important for her family and friends to respect her efforts and not try to push themselves on her.
"Deep down, Lindsay knows that Michael has done the things he has because she has shut him out of her life," the source said.
"Lindsay also feels that if she does try and forge a relationship with Michael, she will be betraying her mom. Lindsay needs her parents to assume their traditional parent roles now more than ever, and not worry about the issues and baggage they bring to the table."
The source adds: "Lindsay is completely opposed to having any type of relationship with Michael at this point. If that is what she wants, then Michael should respect that and give her time, nothing is forever."
In an exclusive interview with RadarOnline.com, Michael says he wants only what's best for his daughter.
"This is the same message that we, as a family, received when Lindsay was at Cirque Lodge. I happily attended therapy with Lindsay, as did Dina," he said. However, when Dina was asked to participate in family therapy, she refused to. And does still to this day. For the sake of our daughter, let's hope Dina changes her mind."