Exclusive
EXCLUSIVE: Infertility Strained Courteney Cox & David Arquette's Marriage, Says Expert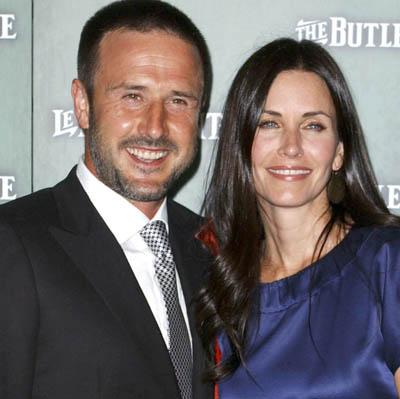 She may have been luckier in love than her best Friend Jennifer Aniston, but when it came to her marriage with husband and fellow actor David Arquette, Courteney Cox battled her own share of demons, including a series of miscarriages and grueling fertility treatments.
FIRST PHOTOS: Courteney Cox Surfaces Sans Wedding Ring
"The statistics are high for divorce because that process is so stressful," according to expert family therapist, Dr. Sherri Meyers, who spoke exclusively to RadarOnline.com.
Article continues below advertisement
"It is a blow to self-esteem, it doesn't matter how powerful or successful you are in the world, but infertility is an ego blow.
"When you look at your partner that is probably part of the shame too.
"You don't see the success... you see the failure."
Courteney and David, who announced on Monday they have decided to separate after 11 years of marriage, conceived Coco, now 6, via in-vitro fertilization.
The couple had been planning on adopting a child in an attempt to save their marriage, according to the National Enquirer, but it never got to that point before they grew apart.
One insider told the Enquirer, in January of last year, "David wants a sibling for Coco, but Courteney's reached a point where she feels it's hopeless to keep trying to get pregnant."
Dr. Meyers, who has not treated Courteney or David, said couples struggling with getting pregnant often have an unexpected strain placed on their union - a physical and emotional burden.
Article continues below advertisement
"In some way, it sucks the life out of the relationship because suddenly it becomes more and more stressful and more and more of a drain," Dr. Meyers told RadarOnline.com.
"Coming together has a function and a form, it's no longer.
"When attention goes to making a life that's where breakdown and stress happens.
"Sex life becomes a scientific experiment it's no longer an expression of love and it's a success or a failure based on the results.
Article continues below advertisement
The focus of a relationship shifts when going through fertility treatments, Dr. Meyers said.
"What couples tend not to do because they're busy and stressed is they forget the three A's -- attention, appreciation and affection -- which are so important and vital to make any relationship strong," she said.
"When you stop giving each other that that's when relationships start to drift apart and people start disconnecting.