Exclusive
EXCLUSIVE: Gloria Allred Responds To Saturday Night Live Parody - 'It Made Me Smile'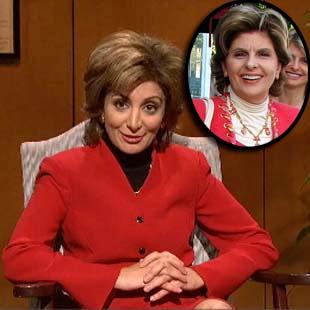 Over the weekend, Gloria Allred was the center of a scathing skit on Saturday Night Live, but she laughed off the parody.
In an exclusive statement to RadarOnline.com, Allred reacted to the spoof that quickly went viral.
"I understand that standing up for the rights of women and minorities, which I have done for 35 years, will make me a target of criticism, jokes and name calling," Allred told us.
"None of that has deterred me from working for justice and social change, which I will continue to do.
Article continues below advertisement
Saturday night's show opened with the following disclaimer: "The following program is presented by attorney Gloria Allred, and is intended solely for self-promotion."
The powerhouse attorney has been making news for representing Nicky Diaz, a former housekeeper of California Republican candidate for governor Meg Whitman.
The segment titled "Ask Gloria Allred" had new SNL castmember Nasim Pedrad portray Allred answering brutal questions from viewers.
"I am a fan of Saturday Night Live and I have watched them over the years poke fun at Presidents, Governors and celebrities. I laughed when I saw those and I smiled when I saw this comic portrayal of me, but standing up for women and minorities who have been denied their rights is no laughing matter."
VIDEO: Taylor Swift Spoofs Twilight On SNL
Allred also had words for the person responsible in the Jerry Brown campaign for referring to Meg Whitman as a "whore" in a voice mail message that made news last week says: "The person who referred to her as a 'whore' was wrong. It is offensive for anyone to have used that term. The individual who said it should apologize."