Live From L.A., It's Betty White VS Tiny Fey In SNL Emmy Battle!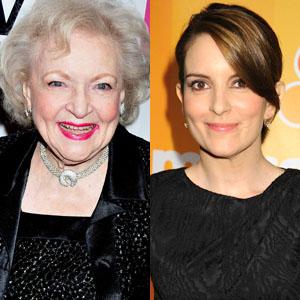 One 40 years old... the other is 88-and a half.
Comic giants Tina Fey and Betty White will face off against each other at the 62nd Primetime Emmy Awards - each are nominated for Outstanding Guest Actress in a Comedy Series for their separate stints hosting Saturday Night Live.
Read The Complete List Of Emmy Nominees
The Emmy nominees were announced Thursday morning in Los Angeles with both women getting the nod.
Article continues below advertisement
White, whose gig hosting SNL was the result of a fan-fueled Facebook campaign, earned the show's highest ratings in 18-months. Fey won the Emmy in this category last year for her Sarah Palin spoof on SNL.
Slap To Leno; The Tonight Show With Conan O'Brien Gets Emmy Nod
In addition to White and Fey, other notables competing in the same category include Broadway vet Kristin Chenoweth for her hilarious performance on Glee's The Rhodes Not Taken episode, and Glee star Jane Lynch's cameo on an episode of Two And A Half Men. (Lynch was also nominated for Outstanding Supporting Actress in a Comedy Series for her role on Glee).