Slap To Leno; The Tonight Show With Conan O'Brien Gets Emmy Nod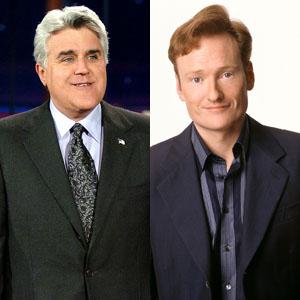 Team Jay - or Team Conan?
Looks like the Academy of Television Arts & Sciences has spoken.
Read The Complete List Of Emmy Nominees
On Thursday morning, the Emmy nominations were announced in Los Angeles and in a slap to Jay Leno, The Tonight Show with Conan O'Brien got the nomination for Outstanding Comedy, Music Or Variety Series - and not Leno, the current host of the iconic late-night talk show.
Leno famously reclaimed his job as host of The Tonight Show March 1 after NBC pushed Conan out, citing bad ratings.
Article continues below advertisement
Glee Scores 19 Emmy Nominations, Including Best Actress, Actor & Comedy Show
While Academy voters could have nominated both versions of The Tonight Show, only Conan got the nod. His competition includes The Colbert Report, The Daily Show with Jon Stewart, Real Time with Bill Maher, and Saturday Night Live.
NBC had submitted The Tonight Show with Jay Leno for Emmy consideration, while Conan had personally entered the show under his tenure.
Conan returns to late-night TV this fall, hosting a new talk show for TBS.
The 62nd Emmy Awards will be broadcast live on NBC on August 29.