VIDEO: Miley Cyrus Comes In For LOL SNL Spoof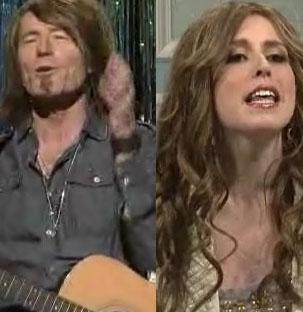 Miley Cyrus got the Saturday Night Live treatment last night and the result was a sketch sure to become a regular feature on the show. You can watch it here on RadarOnline.com.
SNL newcomer Vanessa Bayer scored with her impersonation of Miley, hosting her very own talk show. Newcomer Paul Brittain does a spot-on impersonation of Johnny Depp, the first guest on 'The Miley Cyrus Show.' SNL guest host Bryan Cranston knocked it out of the park as Billy Ray Cyrus.
Article continues below advertisement
Although Vanessa/Miley is playing a talk show host in the bit, 'Miley' really just wants to talk about how "cool" her life is, even showing a clip from one of her own movies when she's interviewing 'Depp' about his new film.
Watch it and weep -- we can't wait for the next installment.
Related Stories:
VIDEO: Amy Poehler Opens SNL With Surprise Kiss From Justin Timberlake
MORE ON:
Saturday Night Live