Exclusive
EXCLUSIVE: Gloria Allred Concerned About Charlie Sheen's Well-being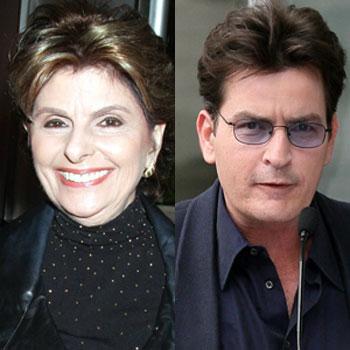 Charlie Sheen has an unlikely person in his corner – attorney Gloria Allred - and she's hoping that the actor gets some help after learning of the bad boy's latest woes.
The Two and a Half Men star was allegedly cavorting with a hooker at the Plaza Hotel and later transported via ambulance to a New York-area hospital Monday night after creating a disturbance in his room.
Allred tells RadarOnline.com, "These reports raise the question as to whether or not Charlie Sheen needs to return to rehab. Given his past criminal record of violence at a time when he had alcohol and or substance abuse issues, I am concerned that if he does not get help a.s.a.p. he may become a danger to himself or others."
Article continues below advertisement
Police say Sheen was intoxicated.
However, a source close to the investigation told RadarOnline.com that it was more than that. "The prostitute says Charlie was using cocaine," the source told RadarOnline.com
The powerhouse lawyer represented Valerie McFarlane, the disgraced Aspen police officer that initially investigated Charlie's Aspen, Colorado arrest last year after getting into a physical altercation with his estranged wife, Brooke Mueller.