Exclusive
EXCLUSIVE: Dr. Drew Says Charlie Sheen's Addiction Is 'Worse Than Anyone Realizes'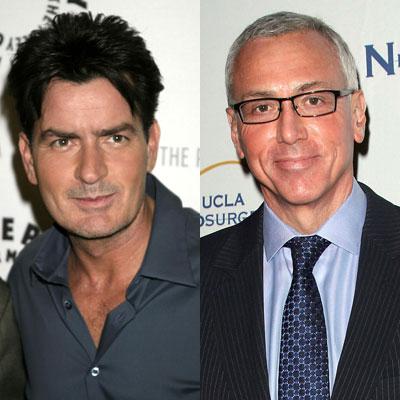 Dr. Drew Pinsky has seen many people, including celebrities, go through the ups and downs of addiction and Charlie Sheen's most recent incident has him concerned that the actor isn't taking the proper steps to overhaul his life.
"I'm afraid Charlie is going to die. This is just the tip of the iceberg with him," Pinsky, who has not treated Sheen, told RadarOnline.com in an exclusive interview. "This truly scares me. I'm saddened and scared for Charlie. Charlie is deeply in his condition."
Article continues below advertisement
Pinsky believes that Sheen needs to make different decisions than the ones he made following his December 2009 arrest stemming from an incident with his now-estranged wife Brooke Mueller.
I'm really sad and surprised that Charlie Sheen went back to work as soon as he did last year. Work is the last thing he needs right now," Pinsky said.
"Charlie needs least three months of in-patient treatment. His addiction is far worse than anyone knows or realizes."
He added that he believes the Two and a Half Men star's success is wearing on him and potentially pushing him to make the wrong choices.
"I'm sure Charlie is saying it's okay that he is going back to work. He is feeling the pressure of being on a number one rated television show, and he is minimizing how bad things are. It's a very risky maneuver for him to go back to work, and that situation is going to get a lot worse very quickly."