EXCLUSIVE: David Arquette's 'Girlfriend' Blindsided By Sex Romp Admission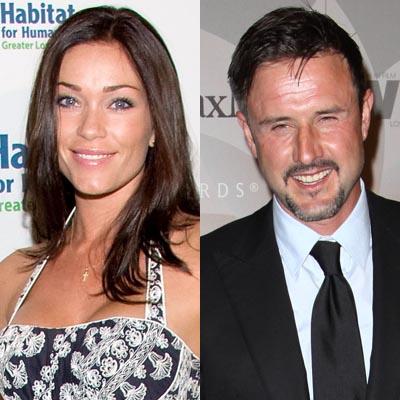 The woman who David Arquette bedded while married to Courteney Cox has been left "shocked and stunned" at the drama, says one of her closet pals, after Arquette went on the radio and blabbed to the world about his "one time, maybe twice" sex admission.
28-year-old bartender Jasmine Waltz, most famous for punching Lindsay Lohan on her birthday, emerged from hiding Tuesday to go to a Los Angeles gym, as this exclusive RadarOnline.com video shows.
Article continues below advertisement
Not long before, Arquette had called into Howard Stern's radio show on Sirius and boasted: "I did have sex with her (Jasmine) one time, maybe twice... My sexual encounter made me feel pretty manly."
Now one of Jasmine's closest confidantes is opening up about her hurt, telling RadarOnline.com her friend was blindsided by Arquette's wild sex declaration.
"Jasmine was just shocked when she heard David had gone on Howard Stern and told what she considered to be private details of their relationship," said the pal.
"She had no idea he would sleep with her and tell everyone."
Jasmine has been romantically linked to a cavalcade of stars, including Ryan Seacrest, pop star Jesse McCartney and Paris Hilton's ex Doug Reinhardt.
The source said Jasime "has zero interest" in going public with her tryst with Arquette.
"She knew she had done nothing wrong because although people didn't know it, according David, he and Courteney were already separated at the time of their relationship," said the source.
Article continues below advertisement
Arquette shared what went wrong in his marriage to Cox in a breathtakingly honest interview with the shock jock.
He told Stern, "After our 11th anniversary she gave me a motorcycle and said, 'I don't wanna be your mother anymore.' I was like, 'Alright, I get it.'
"We go to do Scream 4 and I'm feeling distance, obviously, from my wife.
"We have not had sex in quite a while... at that time like a month or so. Since then, it's been like four months... We're not having sex, and I completely understand.
"After we got back (from the set of Scream 4), we decided to get into a trial separation."
AUDIO: Listen To David Arquette's Howard Stern Interview
As RadarOnline.com reported, Cox and her Cougar Town co-star Brian Van Holt have been spending plenty of time together, leading to speculation that Cox and Arquette had an open marriage.
Of that claim, Arquette said he didn't know if his wife and her hunky co-star were getting physical, but acknowledged he believed they had an "emotional affair".
Article continues below advertisement