Exclusive
EXCLUSIVE: Charlie Sheen's Wife 'Is Clean, Sober & Moving On With Her Life,' Friend Says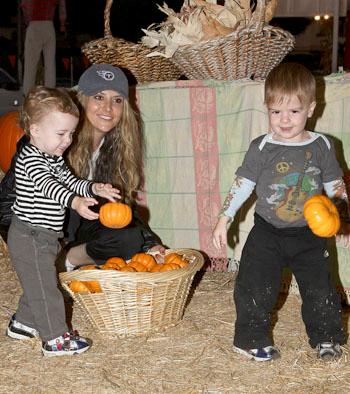 Brooke Mueller and her estranged husband Charlie Sheen may be living just minutes apart in Los Angeles but their lives are a world apart, a friend of Mueller's tells RadarOnline.com exclusively.
"Brooke is never going to disparage Charlie. He is the father of her sons but she's in a really good place now and isn't going to be dragged down into Charlie's mess," the friend says.
On Friday, Brooke took their twin sons Bob and Max to a pumpkin patch where they played in hay, petted goats, and picked out pumpkins to take home.
Article continues below advertisement
Sheen and Mueller, who have been married since may, 2008, have had their divorce agreement essentially in place for several months. Neither wanted to be the one to file while the other was going through rehab or legal proceedings, the friend explained, but it's now likely that they'll go ahead with the divorce in the next couple of months.
Last Christmas Brooke called 911 and reported that Charlie had assaulted her in the Aspen house they were renting for the holidays. Since then they've both been through rehab and Sheen resolved the criminal charges against him with a plea of No Contest to misdemeanor assault.
Earlier this week, Sheen was removed from The Plaza hotel in New York and taken to the hospital, after being found naked and on cocaine in his trashed suite.
As RadarOnline.com has reported, porn star Capri Anderson was Sheen's "date" whom he'd promised $12,000 for the evening. She'd locked herself in the suite's bathroom as Sheen tore the room apart.
He'd gone to the Big Apple with his ex-wife Denise Richards on a family vacation with their two daughters.
Article continues below advertisement
He left the hospital practically as fast as he could get his pants back on, and has already returned to work in L.A.
Mueller is moving into reality TV. She'll be seen in the new Paris Hilton series being developed for the cable network, Oxygen. The series will focus on Paris' relationship with her four best friends, one of whom is Mueller. No, Nicole Richie, is not part of the show.
Related Stories:
EXCLUSIVE: Charlie Sheen Should Hire Legal Call Girls Says Bunny Ranch Owner