EXCLUSIVE INTERVIEW: 'Charlie Sheen Was A Fool' For Not Hiring Legal Call Girl, Says Bunny Ranch Owner Dennis Hof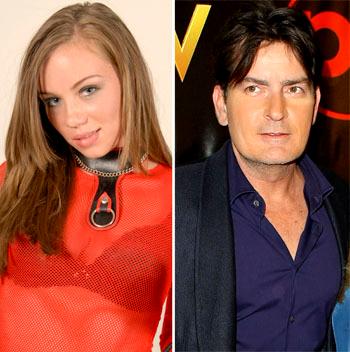 Dennis Hof, whose legal Nevada brothel Moonlite Bunny Ranch appears in HBO's hit series Cathouse, believes if the troubled actor had gone to him then he wouldn't be facing massive media ridicule he is today.
With his infamous "date" with Christina Walsh (aka Capri Anderson) at the Plaza Hotel in New York getting messier by the day, Sheen may wish he had visited Hof's legal bordello too!
Hof told RadarOnline.com: "I think this woman is an opportunist and if you engage in an act where you leave yourself open to all kinds of dangers, well....
Article continues below advertisement
"Charlie Sheen was a fool - he should have know better than this – the guy should go back to college and learn how to spell: Bunny Ranch.
"We all know that Charlie Sheen loves to use hookers dating back to the days of Heidi Fleiss but if he had come to me and my establishment then there would have been no issue with legality.
"I would have taken care of him and nobody would have known anything about it but instead he has gotten himself into a right mess that could end-up with him being jailed."
Walsh is threatening to go to Colorado and speak with the District Attorney about Sheen violating his probation after their $12,000 date at The Plaza went pear-shaped after the actor went on a cocaine and alcohol binge.
RadarOnline.com has learned that the 22-year-old porn star tried to stop Sheen from having sex with her after she found out he did not have her substantial fee on him.
"She told Charlie, 'I'm not doing anything until I get my money first'," a source revealed.
Article continues below advertisement
"And then after they did more cocaine Charlie wanted to have sex and she demanded money. He couldn't find his wallet and flipped out. He thought she stole it, but his assistant, who was down the hall, had it.
"That's when Charlie flipped out and Christina fled into the bathroom and locked the door. He was pounding on it and that led to the series of phone calls with the police showing up.
"Now she's furious because he NEVER paid her! She's determined to get her money one way or the other, so she's shopping her story. Saying she'll go to the district attorney makes her story more valuable and she thinks it will put pressure on Charlie."
Dennis Hof is preparing to open two new brothels in the tiny community of Crystal - 85 miles northeast of Las Vegas - after he was recently granted licenses from the board in Nye County, Nevada.
Hof joked: "Once my new brothels are open I would like to invite Charlie Sheen to come and pay us a visit –and I promise him it will be a trouble-free experience too!"
Related Stories:
EXCLUSIVE: Charlie Sheen Doing Cocaine For Days Before He Was Hospitalized