Exclusive
EXCLUSIVE: Charlie Sheen Tests Positive For Cocaine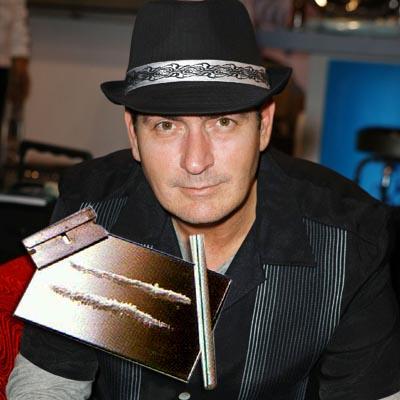 Charlie Sheen tested positive for cocaine after his bizarre meltdown in a New York hotel room, RadarOnline.com learned exclusively.
Sheen, 45, was taken to a New York hospital by ambulance early Tuesday morning after trashing his hotel room at The Plaza when he thought a prostitute had stolen his wallet.
"Cops told Sheen he could either go to the hospital or the (police) station," a source told RadarOnline.com.
Article continues below advertisement
Sheen went to the hospital and was checked in for a psych evaluation.
"After that incident, a battery of tests were run on Sheen. He tested positive for cocaine," the source told RadarOnline.com. "And he's only been out of rehab for two months."
Sheen is nearing the end of his probation for a Colorado incident that led to domestic battery charges.
When asked why Sheen was taken to the hospital, his spokesperson said the actor had an "allergic reaction."
Reacting to the spokesperson's statement, our source added: "Everyone who knows what happened is laughing at that. It's ridiculous. But Charlie is a big meal ticket for a lot of people."
The Two and a Half Men star has a history of using prostitutes, alcoholism and crack addiction.
RadarOnline.com reported exclusively that Sheen has been using cocaine for weeks leading up to the New York incident. He flipped out in the hotel room when he couldn't find his wallet and started screaming at the hooker, according to the source.
Article continues below advertisement
"She called hotel authorities and then police were called."
Charlie's ex wife Denise Richards went to the hospital with him. Sheen and Richards were together in New York with their children and took them to Mary Poppins on Broadway.
Charlie and Denise were in separate rooms but Denise woke up from the commotion when Charlie flipped out, the source told RadarOnline.com.
"Charlie is heading back to rehab but he wants to do it quietly," the source said. "He may do it as an out-patient, which is what he did last time.
He basically sleeps at Promises and does what he wants during the day.
"That way he won't have to miss any work and he has his freedom."
The source also told RadarOnline.com that Sheen is back to boozing.
"He's been getting drunk. He shouldn't be drinking at all," the source said. "He was wasted at a party a little while ago and a lot of people saw him. He even went home with a hot actress."
The cocaine binge that led to the flip out was nothing new either.