AUDIO: Angelina Pivarnick Refuses To Attend Reunion Show, Rips Snooki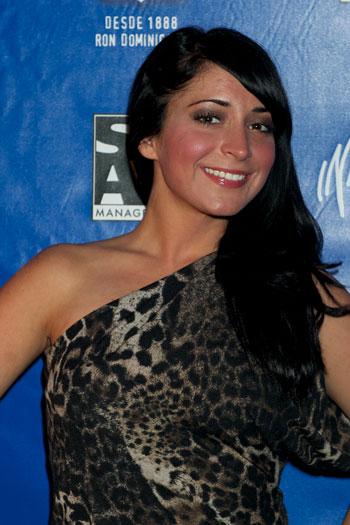 Angelina Pivarnick, formerly of MTV's smash-hit Jersey Shore, chatted it up with Detroit's Mojo In The Morning radio show Thursday, where the mercurial brunette dished on the reasons she won't be attending the reunion show or breaking bread with Snooki anytime soon.
Hear the audio on RadarOnline.com.
Pivarnick told the radio show the reason she left the hit show "was because I was getting bullied by all of them and they were trying to, like, you know abuse me and it was just ridiculous. There was a drama fight everyday."
Article continues below advertisement
Pivarnick said her principles kept her out of the second season's reunion show, as she didn't plan going there on bended knee.
"To them, I owed them something and I, they need, they wanted me to go on my hands and knees and beg them for their forgiveness and that's just not the type of person I am," she said.
And then there was the Snooki talk: As you'll remember, the last Jersey Shore viewers saw of Pivarnick, she was in a knock-down, drag-out brawl with Snooki prior to leaving the show for good.
Pivarnick said she and Snooki "cant stand each other," which she hinted might have been borne out of romantic jealousy over Vinny Guadagnino, the cast member who bedded both brunettes at different points during the show.
Snooki "got mad at me for having sex with Vinny," Pivarnick explained. "Meanwhile she was bringing guys home and he was bringing girls home. I had no idea that she actually like Vinny in that way, like, I had no idea and you know she never explained that to me, like hey don't touch Vinny whatever.
Article continues below advertisement
"It's so funny 'cause it's like me getting blamed for it but, Vinny's the one who antagonized the whole entire thing of me hooking up with him," Pivarnick said. "He's the one that came at me first. He's the one that was like flirting with me, but then she gets mad at me."
Pivarnick said Snooki was trying to make her "look like a ho" -- a claim Pivarnick implied reeked of hypocrisy.
"How am I a slut when I hooked up with Vinny like I had sex with him the whole two months I was there," she said, "but then it was OK as soon as the episodes where she was having a guy in the bed?"