PHOTOS: Bikini By Color! Celebs Strip Down And Show Off Their Favorite Shades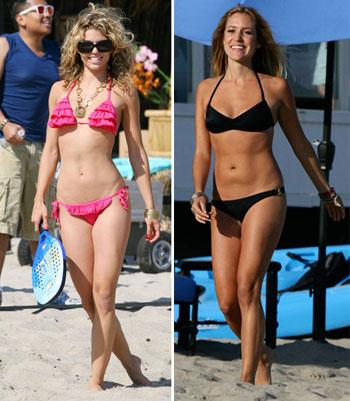 Celebs love to show off their individual style, especially at the beach in their skimpy bikinis!
While there are several ways to make a splash with swimsuit style, the simplest way to make a statement is with color. What stars show off their bombshell bods in black and who thinks pink when it comes time to strip down and hit the sand? Find out in RadarOnline.com's bikini feature.
So what if black isn't really a color! Stars like Kristin Cavallari, Sophie Monk and Hilary Duff know that their hot bodies can be the focus of all attention when they keep their swimsuit style simple in black.
Article continues below advertisement
It is no surprise that Sex and the City star Kim Cattrall wears the dark shade, as black is pretty much the NYC uniform.
What stars show off their bombshell bods in black?
The most feminine color on the planet is most definitely pink, so Hollywood's girly-girls tend to gravitate toward the candy color. While AnnaLynne McCord steams up the beaches near her 90210 zip code in a ruffled hot pink suit, Jersey girl Deena Cortese brings her fem fashion to the Jersey Shore.
See all the pretty-in-pink bikini babes!
And while blue is traditionally the color for boys, there is nothing masculine about bikini babes Paris Hilton and Britney Spears, in their sexy aqua-toned swimsuits.
What Hollywood stars stay true to blue on the beach?
Red is definitely a color for vixens, so it is no surprise that stars like Kate Hudson, Kelly Bensimon and Jenny McCarthy bring sexy to the beach in their scarlet suits.
When is red over the top? Just look at Ice-T's wife Coco in her barely-there scarlet swimsuit. Less isn't always more, as demonstrated by the cheeky model!
See all the red hot bikini babes.
From black and blue to red and pink, See Hollywood's hottest stars make a splash in their different color swimsuits in RadarOnline.com's bikini feature!
RELATED STORIES: