White House 'Gatecrasher' Michaele Salahi Made Into Barbie Doll Wannabe Action Figure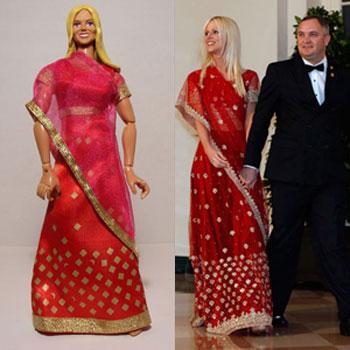 Fame seeker and Real Housewives of D.C. star Michaele Salahi has forever been immortalized in plastic in the form of an action figure dressed in her White House 'gatecrashing' attire.
As RadarOnline.com was first to report, Michaele had been planning to cash in on her notoriety by turning herself into a Barbie doll and now we have all the photos of her newly released action figure.
The doll bears Michaele's infamous red sari dress and blonde hair, but appears disproportionate with a head that is oddly small for the body.
Article continues below advertisement
Michaele had originally wanted to sell the rights of the doll to Mattel in hopes of becoming the next Malibu Stacy, a source told RadarOnline.com, but the doll has instead been produced by a company called HeroBuilders.
Michaele isn't the only celebrity immortalized by the company – they also have Sarah Palin, Jersey Shore and Jon and Kate Gosselin action figures.
RELATED STORIES:
EXCLUSIVE: White House Gatecrasher Trying To Cash In By Becoming A Barbie Doll
MORE ON:
Real Housewives of DC