PHOTOS: Bikini Wars! Our Sexy Dancing With The Stars Special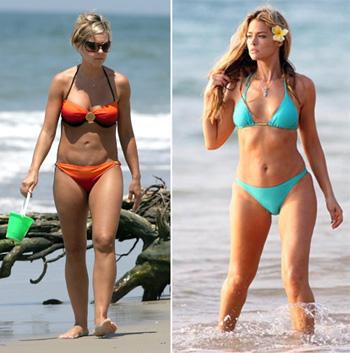 These stars have made smooth moves on the stage of Dancing with the Stars over the last 11 seasons, doing the tango and the cha cha in super sexy costumes.
If you can't take your eyes off the screen every week, you certainly won't want to miss this week's Bikini Wars, because the real competition starts when the 20 hottest dancing queens strip down into their bikinis!
Cheryl Burke and Karina Smirnoff are both sexy dancers who have gotten awfully close to their hunky partners.
Article continues below advertisement
While Cheryl has danced her way into the final three numerous times, can she beat the competition when it comes to her beach bod?
Kate Gosselin hired a babysitter for her 8 kids and flew out to Hollywood for season 10 of DWTS -- and boy -- did she put on a show with partner Tony Dovolani, but Denise Richards was also a hot Dancing momma on season 8.
Which of their maternal moves brings the heat to the beach?
Audrina Patridge left The Hills and found a new gig with Dancing with the Stars on season 11, but she isn't the only reality babe to have hit the famous stage.
Kim Kardashian showed off her covetable curves on season 7, and although she lost out early in the game, she still goes down in history for her hotness.
Of the 20 hottest DWTS contestants and dancers, which bombshells carry the most heat from the stage to the waves?