New Music: Lil's Wayne To Mark Ronson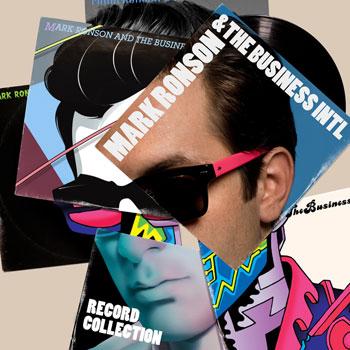 Producer extraordinaire Mark Ronson follows up his successful 2007 solo album with Record Collection by Mark Ronson and the Business Intl. The album finds Ronson experimenting with vintage keyboards found on eBay to create a synth-driven pop album over big old-school beats and hints of French electro. The album features guest appearances by Boy George, D'Angelo, Q-Tip and Alex Greenwald, to name a few, but the standout title track features none other than Duran Duran's Simon LeBon crooning "I only want to be in your record collection, and I'll do anything it takes to get there", whilst sharing vocal duties with Ronson, who delivers hilarious lyrics like, "My teeth are bright and my hair is clean/I wear Paco Rabanne like I was Charlie Sheen," all over keyboards by Duran Duran's Nick Rhodes. And working with the '80s icons was not lost on Ronson. "Duran Duran were the first band I remember being a real fan of," he said recently. "I had an Arena lunch box and a Smash Hits sticker book."……
Article continues below advertisement
Willow Smith : Officially The Luckiest Little Girl
Lil Wayne's latest is I Am Not a Human Being and it features Drake, Jay Sean, Lil Twist and others and the single is Right Above It….
Jimmy Eat World offers up Invented and the first single is My Best Theory…..
Seal offers up Seal VI — Commitment, which was produced by David Foster and inspired lyrically by wife Heidi Klum……
Rolling Stone Ronnie Wood releases his first solo album since 2001, entitled I Feel Like Playing. The album features guests Slash, Flea and ZZ Top's Billy Gibbons….
Brandon Flowers: Killers To Flamingo
Neil Young's latest is Le Noise produced by Daniel Lanois….
The Posies release their first album in five years, Blood/Candy…..
OMD are back with their first album of new material in 14 years, History of Modern, which features the single Save Me with guest Aretha Franklin….
Pete Yorn releases a self-titled album produced by none other than Frank Black….
Article continues below advertisement
Yaz's Reconnected Live is a double album celebrating the band's first tour together in more than 25 years…..
Nellie McKay releases Home Sweet Mobile Home….
Hemingway's Whiskey is the latest from Kenny Chesney…..
Kenny Wayne Sheperd offers up Live in Chicago, which was recorded at the House of Blues….
Eric Clapton's latest is entitled Clapton features guest appearances by Steve Winwood, Sheyl Crow, Wynton Marsalis and Derek Trucks….
Lloyd Cole releases his first album since 2006, Broken Record…..
Phil Collins' latest is Going Back, which is his first album in eight years and features Motown and soul covers….
The Dance Party offer up Touch which features a collaboration with Justin Hawkins of The Darkness……
Get Sublime: Exclusive Video Blog:
Deerhunter's latest is Halcyon Digest…..
The Doobie Brothers first album of new material in ten years is World Gone Crazy and it features guests Willie Nelson and Michael McDonald….
Article continues below advertisement
Luka Bloom's latest is called Dreams in America…..
Fences self-titled album is produced by Sara Quin of Tegan and Sara….
Floored By Four is a collaboration between Mike Watt, Cibo Matta's Yuka Honda, Dougie Browne and Wilco's Nels Cline and they're now releasing their self-titled debut…
Exclusive Video: In the Studio With Linkin Park
Ben Folds and Nick Hornby offer up Lonely Avenue, which features vocals by Folds and lyrics by Hornby….
No Chocolate Cake is the latest from Gin Blossoms….