Willow Smith: Luckiest Little Girl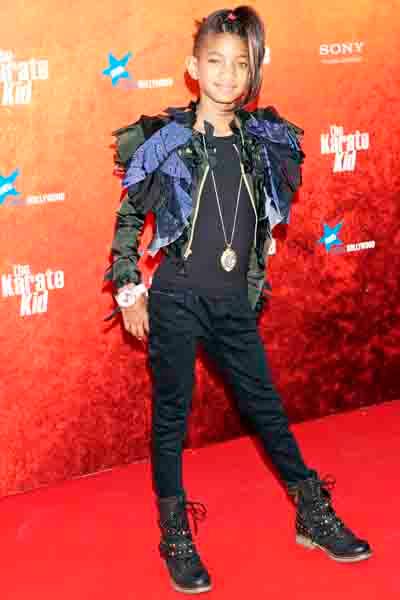 Willow Smith is officially the luckiest little girl around.
She's the daughter of multi-talented parents Will and Jada Smith, the sister of Karate Kid Jaden, and now Willow has proved she's got the showbiz genes, since her debut song Whip My Hair became an instant Internet sensation.
"It means just be an individual," little Willow told Ryan Seacrest about the meaning behind the song. Willow says her mother schools her in being true to who she is in order to be happy, and the littlest Smith has certainly demonstrated her individuality with unique wardrobe and hair choices on the red carpet.
Article continues below advertisement
"You can't be afraid to be yourself," said Willow. "You have to be yourself. You can't let anybody tell you that that's wrong."
And though she may not even be in the double digits, the pint-sized prodigy just landed a record deal from none other than hip-hop mogul Jay-Z. (Lest we forget Willow's rapper-turned-actor dad was just 20 when he released his '80s mega-hit Parents Just Don't Understand as The Fresh Prince.)
Brandon Flowers : Killers To Flamingo
"I believe in superstars. I believe in big records and in superstars and I think she has both," said Willow's new boss, Jay-Z, who signed her to his Roc Nation label—an imprint of Roc-A-Fella Records—after being blown away by Whip Your Hair. "She has a child's innocence but she has a clear vision of who she is and who she wants to be."
Jay-Z likened Willow's determination to a young Michael Jackson, and dismissed her young age as being an obstacle for her storming the charts, explaining, "When you have that sort of talent, there is no such thing as too young."
The Black Pacific : Beat The System
Willow said she was bit by the showbiz bug early on and, true to form, followed her heart. "I would go with my mom on her tour and I would look at her and I would just love what she did, so I was, like, 'maybe I should do that! So I did!"