Brandon Flowers: Killers to Flamingo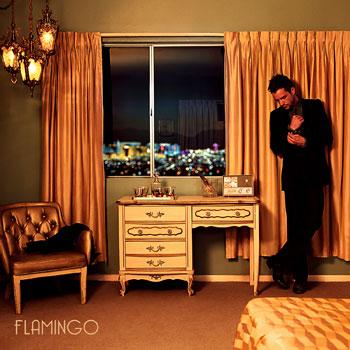 One of America's most fantastic frontman has stepped out on his own. That's right, the Killers' Brandon Flowers, he of everything that glitters like his beloved hometown of Las Vegas, has released his first solo album, appropriately titled Flamingo.
Reportedly written as a Killers album before the band decided to take an extended hiatus, the album certainly will not disappoint fans of the band, which Flowers says plans to return next year.
Article continues below advertisement
The album debuted at Number One in the U.K. where it was certified gold in just two days, which is not that surprising being that Flowers was so greatly influenced by British bands growing up. And though he may have a kinship with the Brits, Flowers also adores his homeland-especially his hometown.
The album is littered with references to the Bright Light City, and on the not-so-subtly titled "Welcome to the Fabulous Las Vegas" Flowers sings emphatically, "Give us your dreamers, your harlots, your sins/ Did nobody tell you the house will always win?"
Packed with arena-ready anthems and moving ballads, and equally diverse lyrical imagery, the album exemplifies what we love about Flowers, showcasing his talents as both the showman and the poet.
The video for the incredibly catchy single "Crossfire" features none other than Charlize Theron and the album features a cameo by Jenny Lewis, though nothing's quite as memorable as Flowers' shimmering vocals.