Movie Review: The American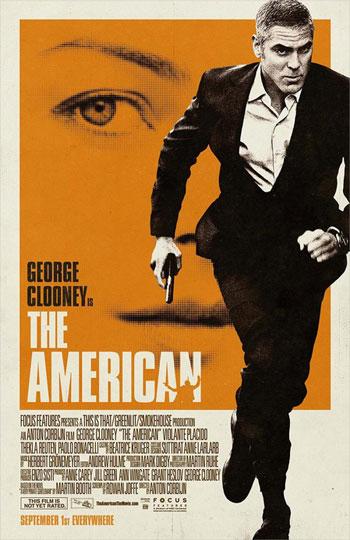 A mysterious man fends off killers, drives mopeds like a pro and knows the mechanics of foreign women and discreet guns like he was born with a passport and a killer instinct. We don't learn much about this rugged, James Bond-like figure known as Jack, then Edward, and finally, Mr. Butterfly (except that he's George Clooney in real life), but somehow it's mesmerizing watching his every move in deliberate, slow takes, and often set to brooding music.
Article continues below advertisement
Movie Review: Going The Distance
In The American, Clooney plays an archetypal loner whose work involves a lot of bullets, bloodshed and hiding. The tension is palpable from the the first moments, when Mr. B's idyllic Swedish getaway is cut short by guys with weapons that mar a snowy, virginal setting. Their arrival quickly establishes the film's churning sense of danger that only intensifies, and prompts Mr. B to relocate to a small Italian mountain town. It's there, tucked among cobblestone streets and nestled in fog, where he quietly tackles his next assignment -- designing a gun for a female assassin worthy of any 007 flick -- and befriends a portly Italian priest (Paolo Bonacelli), who instinctively sees through Mr. B's chiseled, protective exterior.
As Father Benedetto makes laser-like observations about his sinister activities and loveless existence, Mr. B in fact begins to question things, too. Adding fleshy, breathy food for thought is Clara (Violante Placido), a local prostitute who parlays Mr. B's for-pay visits into a dinner date. Can a loner shed his past and find love, after all?
Clooney's character does his damndest to find out, as the actor recedes into himself in a decidedly un-American fashion: Showing traces of his character from Up in the Air, The American takes Clooney a step further. Lingering close-ups of Mr. B cleaning bullets, Mr. B doing push-ups, Mr. B sipping espresso -- and often, of the back of Mr. B's neck, which has several targets on it -- let the actor erase the traces of his charismatic, smirking, Clooney-ness, and seem simply like a tough guy who has lost his way.
The movie, which is based on a book by Martin Booth and directed by Dutch native Anton Corbijn, is European through and through. While the story is familiar and the gut-wrenching conclusion is inevitable, it seems fitting that for this movie's American, answering the bigger questions is best done far away from home.