Movie Review: The Switch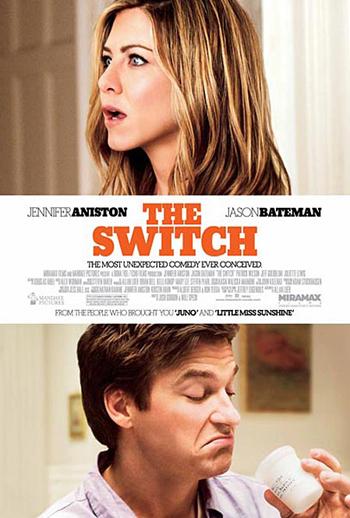 Lighthearted, surprisingly funny and buoyed by poignancy and punch lines, The Switch is a love story that starts with a partner-less pregnancy, and ends with warm fuzzies, after an unusual route.
Jennifer Aniston stars as Kassie, our pretty, successful and even-tempered heroine who opts for artificial insemination when, in her mid-30s, she's single but still wants to be a mom. Things are going swimmingly until her bestie Wally (Jason Bateman) boozes it up at her pregnancy party, and -- whoops! -- switches his sperm for the original batch. Suddenly, Kassie's baby-to-be will be infused with the neuroses and social awkwardness that besets her hapless BFF, instead of alpha-male attitude from a strapping blonde named Roland (Patrick Wilson).
Article continues below advertisement
Unaware of his drunken stunt, Wally moves on with his life after Kassie leaves town: a string of days at his white-collar job, jogs at the gym and hilarious blind dates gone wrong -- all the while unaware that he's a dad. But when Kassie returns seven years later with her son Sebastian (Thomas Robinson) in tow, Wally starts spending time with him. Suddenly, the guy who calls himself a "man-boy" begins to grow up and soon enough, Wally has to confront the truth about both his paternity, and his longtime feelings for Kassie. Luckily, he gets some help navigating the muddy romantic waters from his colleague Leonard (Jeff Goldblum), who's understated jokes further pad the movie with unexpected and warm-hearted wit.
The Switch, which is based Jeffrey Eugenides's short story, The Baster, doesn't break new ground or take big risks. Aniston is her pleasantly perfect self, playing jokes off of Bateman with an ease that makes them a lovable duo (and yes, her hair is perfect too). Bateman's ability to seem charmingly clueless is honed for maximum laughs even when he's injecting himself, so to speak, in the middle of Kassie's pregnancy. His indiscretion is the movie's most unspeakable moment and yet somehow, Wally's "whoops" moment gets barely a second thought because really, who could be mad a guy this nice?
And so The Switch's big no-no is a means to an end for people who are so obviously right for each other. As Wally muses about making human connections in the opening scene, he's not only spelling out the movie's theme, but also sugarcoating its unseemly premise. Forget about fearing single motherhood -- or worse! -- the prospect of being alone. When everyone means so well and makes us laugh this much, everything will work out just fine.