Middle Men: Sex, Drugs And Rock n' Roll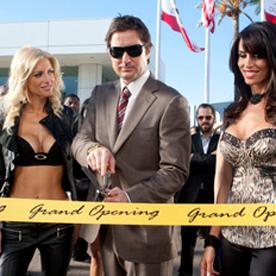 Brash, funny and brimming with champagne (nevermind the topless women), Middle Men is a fast-paced ride fueled by sex, drugs, guns and a fantastic mid-'90s soundtrack. The movie's magic lies in the telling with a distinct style and slick look as it depicts the seamy underbelly of internet porn, and the men who made billions from it.
To be more accurate, Middle Men tells the real story of the birth of the internet as we know it, where anything can be bought or sold -- starting with pictures of naked women. Told through the eyes of businessman Jack Harris (Luke Wilson), the tale begins with idiot savants Wayne Beering (Giovanni Ribisi) and Buck Dolby (Gabriel Macht), who are broke and doing too much cocaine in L.A. when Wayne decides he wants to put dirty pictures online. It's not until one boozy night that his fleshy pipe dream takes off, when Buck invents (in just 15 minutes, the movie claims) the program for online credit card transactions. Thus, modern commerce is born and our brainy hedonists stumble upon more money than they ever dreamed of (but not more than they can snort, drink and gamble away in Vegas).
Article continues below advertisement
Of course, more money means more problems, and soon enough they're in way over their heads, complete with black eyes and paranoia to prove it. Jack arrives to save the day and soon enough he's guiding his dimwitted business partners into a multi-billion dollar enterprise. Through Jack's narration, we see him get deeper and deeper into the business, even as he longs for his pretty wife and their little kids back in Texas. As his character navigates the increasingly dangerous maze of the porn biz -- and falls for a young actress in the process -- Wilson is wholly believable as a misguided good-guy wading through treacherous waters with super-human savvy. While Wilson's narration is flat at times, the role is still one of his best, capitalizing on the mix of his average-guy demeanor and understated charm to walk the line between menschy hero and manipulative opportunist.
With its super-saturated colors, tongue-in-cheek 'tude and exceptional performances, Middle Men is raucous but tempered, with top-notch directing from George Gallo (Bad Boys), who knows when to let the ridiculousness loose, and when to reign it in. Raw and unapologetic, the film is a gem of the summer -- prudes need not attend.