Movie Review: The Other Guys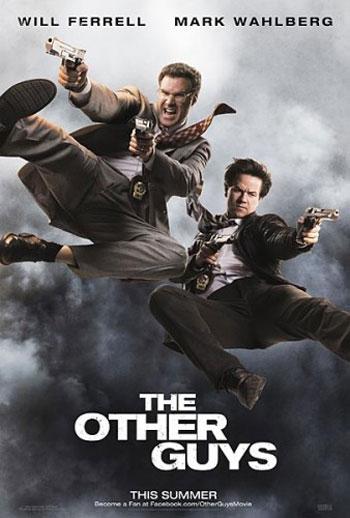 Car chases, gun fire and deadpan one-liners: The Other Guys has it all -- depending on what scene it is.
The new cop comedy from director Adam McKay (Saturday Night Live) turns the classic genre on its head, taking every convention in the book and upending it for maximum laughter -- and sometimes upending it again to ruin what started as a funny joke. The film opens with a glimpse of crime-fighting duo Det. Highsmith (Samuel L. Jackson) and Det. Hanson (Dwayne "The Rock" Johnson): hulking, arrogant and crash-happy, they're literally New York's finest, and remind their colleagues of it every chance they get (which is often).
Article continues below advertisement
But The Other Guys isn't about these guys. The film dispenses with them in short order, leaving Mark Wahlberg and Will Ferrell as mismatched partners hoping to fill the hero shoes left behind by the cocky hot-shots. As Allen Gamble, an earnest nerd who wields a calculator better than a gun, Ferrell supplies most of the film's fun. He plays straight man to Wahlberg's Terry Hoitz, the angsty tough-guy with girl problems, a taste for booze and an itch to see some bullets fly. But as the pair botches call after call, it's clear that hero-status will likely elude them -- until they discover the case that could finally earn them some respect. What they do succeed at is subverting one cop movie convention after another, from the cool car (Gamble drives a Prius: fuel-efficient, yes. But bad-ass? Not quite.) to their inability to walk away unscathed from an explosion.
While the film prompts plenty of laughter, it also sabotages some of its best jokes. One of the more inspired bits involves Capt. Gene Mauch (Michael Keaton), who moonlights at Bed, Bath & Beyond, bemoans liberal arts education and has a penchant for quoting TLC songs. This last gag seems brilliant -- until Gamble starts pointing it out. Similar missteps stomp the fun out of other jokes, too, from Gamble's mysterious magnetism with the ladies, to the bad guys' habit of swiping shoes.
This near-constant pendulum swing makes for an entertaining movie with comedy that ranges from great to groan-worthy. Among other stumbles, it's too bad that Hoitz doesn't get more to do, and that Wahlberg never wavers from his high-energy delivery. Despite the unevenness, The Other Guys has a lot of broad, well-timed humor and juicy satire to offer that's worth sticking out the flubs.