Movie Review: Dinner for Schmucks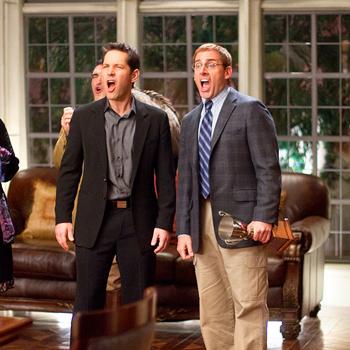 In Dinner for Schmucks, Paul Rudd and Steve Carell play an odd-ball pair of unlikely friends with a lot to teach other and an avalanche of catastrophe along the way. Rudd plays pretty-boy Tim, an ambitious businessman with a mean streak, while Carell plays Barry, a quirky guy with no social skills who wreaks havoc on Tim's life. The broad farce is beefed up with physical comedy aplenty (a car crash! a sword fight! flying wine bottles!), and chugs along unevenly, with a hilarious joke here and poignant moment there mixed in with pregnant, squirm-worthy scenes that just won't end.
Article continues below advertisement
Movie Review: Angelina Jolie's Salt
Much of the movie is supposed to be squirm-worthy: Tim's main goal is to get a promotion and impress his artsy girlfriend Julie (Stephanie Szostack) enough so that she'll marry him. So when his boss invites him to a dinner where the powerful make fun of misfits, he jumps at the chance -- even if he has to bring an idiot with him. Julie, however, isn't down with the dinner, rightly decrying it as "messed up." Still, when Tim literally runs his Porsche into hapless Barry, he can't help but think it was meant to happen (which becomes its own little running joke).
After the collision, antics ensue as Tim's relationship hits the rocks in a major way and Barry just won't get a clue. The saving grace between some of the less-funny, over-the-top moments (one of which involves a tall blond with a vinyl outfit and an obsession with Tim) are some of the smaller ones that pack a bigger punch. As Kieran, a self-obsessed artist with a thing for animal art (and a thing for Julie), Jemaine Clement delivers lines so over-the-top -- and so dead-pan -- that it's tough not to laugh even before he opens his mouth.
At other times, it's director Jay Roach's (Meet the Fockers) feel for poignancy that adds a layer (however thin) of nuance to the movie. Carell, meanwhile, walks the line between irritating and pitiful with ease, letting us cringe at Barry one minute and feel sorry for him the next, especially when he shows off his art built with dead mice, which he calls "mousterpieces." Dinner for Schmucks is a comedy through-and-through, but also offers a heavy dose of redemption -- that is, if you can stomach the bumpy ride there.