Angelina Jolie's Salt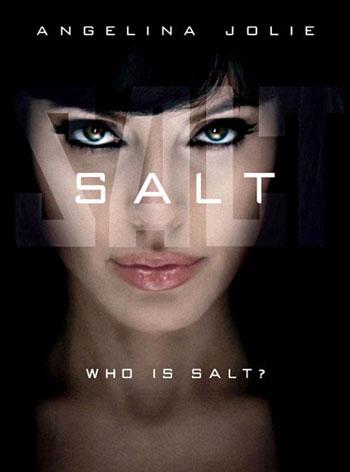 Someone's bringing sexy back to movies this summer, and her name is Angelina Jolie. In Salt, the queen of action flicks gives bad-guys some tough love (read: death by all forms of bullets, butt-kicking and bombs) as the star CIA agent who goes on the run when a mysterious defector claims that she's actually a Russian spy.
The chase begins at central Intelligence HQ in Washington D.C, with Evelyn Salt smartly removing her shoes and making a run for it. Watching Jolie alternately blow up hallways, jump from bridges to moving vehicles and sprint like a pro, there's no turning back from her compelling portrayal of a woman with a mysterious past -- and more tricks up her sleeve than, well, a secret agent. As she continues through the hoops of her escape (to reveal more about her blood-soaked shenanigans and high-octane sequences would ruin all the fun), we see that she's conflicted, caught in a messy tangle of competing allegiances that only fully unfolds in the film's final moments.
Article continues below advertisement
Jolie has been hailed by many as the first actress to transcend gender (Tom Cruise was originally considered for the role of Salt). But the tense, action-packed scenes in Salt work well precisely because they're juxtaposed with Jolie's pangs for her missing husband, an adorable German spider expert (August Diehl) who's hunky but not too hunky, and faces the classic female conundrum of love or career, and even hugs a puppy. It's not that men don't have the capacity for crafty ethical decisions or don't have an emotional side, it's simply that Salt's a lot more compelling precisely because she is female -- not to mention drop-dead gorgeous. Plus, her gender allows for a tricky subtext with her mentor at the CIA, Ted Winter (Liev Schreiber), whose affection for his colleague is obvious, even if his motives aren't.
Still, while Jolie's beauty is considerable and her fight scenes impressive it's not her looks that carry the movie. Instead, it's the actress's sheer screen presence and cool believability, even when everything else is totally over the top. With its high body count and layers of intrigue, Salt bears many of the same attributes that make Matt Damon's Bourne movies so much fun. The action is sometimes ridiculous, but the heroes have enough humanity to feel like they could our neighbors -- that is, really good-looking neighbors.
Salt lacks some of the Bourne trilogy's complexity -- visually, story-wise and otherwise -- and the mystery isn't as twisty. Isn't someone else really a bad guy? Doesn't Salt care, sometimes, if her face is bleeding (again)? Apparently not -- but no matter. As the summer's first worthwhile adrenaline-fueled action thriller, Salt rises to the occasion, complete with a seductive, dangerous woman saving the world -- and, possibly, the summer movie season.