Despicable Me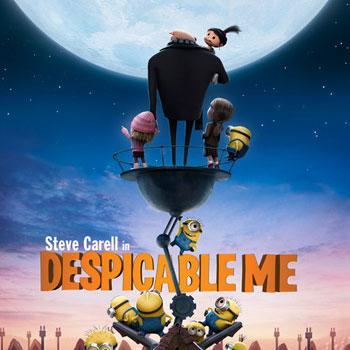 Good-natured, goofy and utterly fun, Despicable Me is the summer's latest 3-D animated ode to joy. The film stars Steve Carell as the voice of the villainous Gru, who devises a plot to be the greatest bad-guy the world has ever seen. His plans -- and his evil rep -- are threatened, however, when the little orphans he uses for his nefarious agenda giggle their way into his cold, wart-covered heart.
Article continues below advertisement
Despicable Me lacks much of the nuance that buoys box-office crusher Toy Story 3, and bears few in-jokes that would have fleshed it out. Still, there are a couple of winks to tickle the elder folk throughout the film. Wall Street excess gets a nod when Gru goes to the bank for baddies, as do his considerable mommy issues. Through poignant flashbacks, we learn that the pointy-nosed grump never got a loving word of encouragement from mom (voiced by Julie Andrews), a cold old lady who dismissed all his little-boy dreams -- and left him yearning for validation. Now an adult, Gru still has some growing up to do as he strives to impress his mom, and balance his dreams in the face of his three young charges.
While Despicable Me's story is straightforward, its creative flourishes add the extra spark. There's Gru's aged sidekick, Dr. Nefario, who's voiced with a Cockney accent by Russell Brand and becomes a stand-in for Gru's ego. There are the Minions, yellow creatures who work for Gru and provide much of the movie's comedy (bare-bottomed photocopies, anyone?), as well as Gru's nemesis, Vector (voiced by Jason Segel), who has some parental problems of his own and a taste for modern design. And then there are the orphan girls, Margo (Miranda Cosgrove), Edith (Dana Gaier), and Agnes (Elsie Fisher), who, with big eyes and little-girl wants (unicorns! bedtime stories! goodnight kisses!), are the heart and soul of the film.
With such a stellar cast and unusually funky music -- courtesy N.E.R.D. producer Pharrell Williams, among others -- Despicable Me is a slick, entertaining package. It's hard not to want more oomph -- more hip-hop beats? self-aware references to pop culture? -- but then again, the film's substance is designed for its real audience: children. The good news for the rest of us is that Despicable Me has enough heart to keep the big kids laughing, too.