Inception: Brace Yourself!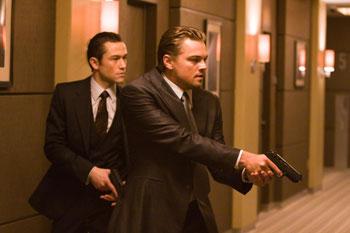 Don't even try to fight it. Just sit back and brace yourself for the heady, brave new world of Inception. Christopher Nolan's latest film is grandiose, ambitious and all-consuming -- visually and viscerally -- to a startling degree. Forget Memento and -- dare we say it? -- The Dark Knight. Inception drops us into the middle of the action out of the starting gate, and doesn't let go until it's all over a whopping two hours and 25 minutes later. Believe the hype: Inception -- and it's haunting, churning music -- is that good.
Article continues below advertisement
Watching the movie also means entering its dreamy turf. In this trippy world, there are psychedelic strolls through Paris where the streets bend upside-down, and snowy hills of Switzerland where baddies on skis are out for blood. This is the playing field for Dom Cobb (Leonardo DiCaprio), a hired gun who steals things for big corporations. Leave low-brow embezzlement to Wall Street; Cobb can mind-meld with subjects' dreams to steal their ideas -- and their darkest secrets.
A master of his craft, Cobb is about ready to retire when he takes one last job in a deal that would let him go home and reunite with his children. This time, though, Cobb's mission is not to steal an idea, but to plant one in a process called inception. After some debate (But it can't be done! ...Or can it?), he assembles his brainy team the way Danny Ocean does in Oceans 13, except more somber (no smirks, no champagne, and definitely no Oprah). When complete, Cobb's Dream Team includes Ellen Page as Ariadne, the ingenue architect of the dreams they'll infiltrate, Joseph Gordon-Levitt as Arthur, the handsome researcher who ensures they'll get woken up, the dashing Tom Hardy as Eames, the witty Brit with a knack for blending in, and Ken Watanabe as the tycoon who hires Cobb in the first place. Their target is Robert Fischer Jr. (Cillian Murphy), the fragile heir to an energy empire who never got daddy's approval.
In this mesmerizing dream filled with infinite possibility, the only thing that's missing is a deeper connection to the characters. Sure, they're braving the nerd-tastic rollercoaster of a project, but we barely know them, save for Cobb's yearning and Arthur's all-too-brief burst of lust. Luckily we have Ariadne who, as the new girl, translates all the inception mumbo-jumbo. And yet, the lack of meet-and-greets doesn't mar enough of the movie to make it anything less than mesmerizing. Inception's adrenalized ride takes some time commitment. But just like a real dream, it flies by -- and makes you wonder what just happened.