Movie Review: Scott Pilgrim Vs. The World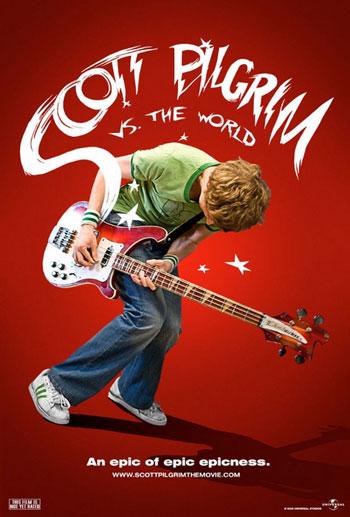 Romance (wham)! Music (bam)! Irony (Ka-POW)! Scott Pilgrim Vs. The World has arrived, ready to win you over with power-pop hooks, nostalgia-soaked references and so much dry wit that you might have to see it again, just to take it all in.
Michael Cera stars as Scott Pilgrim, a self-absorbed 23-year-old who lives in snowy Toronto with his roommate, Wallace Wells (played by a perfectly brooding Kieran Culkin, who steals every scene). Scott's in a rock band, dates a high school girl named Knives Chau (Ellen Wong) and has an aversion to working. When he falls in love with Ramona Flowers -- who's literally the emo rock chick of his dreams (played by Mary Elizabeth Winstead) -- his world takes on a casually supernatural quality, as he must fight Ramona's seven "evil exes" if he wants to date her. The eclectic exes, played by actors including Chris Evans (as the skateboarding, action-hero-ex) and Jason Schwartzman (as the uber-evil, music-mogul-ex) appear one by one to battle Scott, who fights back with the type of karate kicks and punch-outs familiar to fans of Mortal Kombat.
Article continues below advertisement
Scott Pilgrim is adapted from the graphic novel series by Bryan Lee O'Malley, and retains much of the source material's comic feel: Characters are identified with on-screen text (name, relationship status and connection to Scott are explained), sounds are enhanced with animation, and scenes jump from place to place and from reality to comic without warning, such as when Scott jumps out of a window with cartoonish velocity, appearing again to grab his coat. It's the cartoonish quality, though, mixed with an old-school video-game feel, that feels so fresh, thanks to director Edgar Wright (Hot Fuzz and Shaun of the Dead), who brings his cheekiness to the game with flourishes that range from word play to playful visual effects.
The brilliance however, wears a little thin without meatier main characters. To his credit, Cera brings something new to his role as the reluctant hero -- but it's not enough to make us care if he stays with Ramona or not (besides: with a personality this bland, how is he even getting the ladies, anyway?). The fight scenes, meanwhile, get repetitive no matter if there's a Bollywood theme or a night club setting, complete with hipster in-jokes. Still, even as the pace seems to slow with every battle, every detail in Scott Pilgrim is so fine-tuned and tongue-in-cheek that it can get away with a little less than a compelling plot and simply revel in its originality and fun, set to garage-rock riffs and buoyed by a boyish crush.