Movie Review: Going the Distance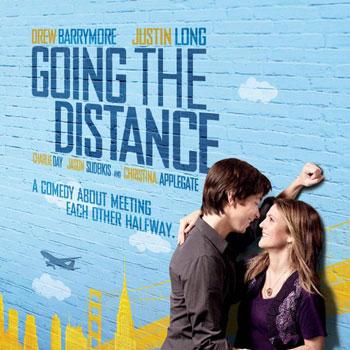 Sweet, sincere, and at times outrageously funny, Going the Distance captures the pulse of a generation where dating is loosely defined, careers are still preparing for takeoff, and romantic commitment is an abstract concept. Well-meaning to its core, the film has a refreshingly honest tone mixed with endearing humor that occasionally gets juvenile, creating distractions that water it down.
Distance follows the shaky romance of Erin (Drew Barrymore) and Garrett (Justin Long), who first bond over a video game at a dive bar in New York, and then later in bed for what they assume will be a one-shot deal. After all, Erin is a Stanford graduate student in journalism just weeks away from returning to California, while Garrett is a newly single ladies' man slogging away at a music label. But as summer days go by, their chumminess only gets chummier: A few strolls on Coney Island, meaningful smiles, and Italian dinners later, they decide to throw geography to the wind and keep things going when Erin heads home.
Article continues below advertisement
As the pair sets out on the trying road of a long-distance relationship, their travails are charming, if not notably realistic. It's not often that financial and professional uncertainties so much as get a mention amid lovey-dovey talk and the thud of predictable punch lines. In Distance, Erin's job-hunting and Garrett's lack of travel funds drive the relationship, forcing them to tackle rough patches and big decisions as they text, chat, and IM like champs through hurdles like loneliness, sexual frustration and jealousy.
While Barrymore and Long provide serviceably cute portrayals of average people in love, their respective friends serve as Greek choruses of loud discontent and heavy-handed jokes. As Erin's older, skeptical sister, Christina Applegate delivers her disapproval with dead-pan perfection, even when her role is more caricature than real person. Jason Sudeikis and Charlie Day round out Garrett's guy posse, Box and Dan, whose potty mouths sometimes go too far (beware the toilet scene).
As the feature debut for director Nanette Burstein (whose roots are in documentaries) and first film for writer Geoff LaTulippe, Going the Distance retains a kind of freshness that can elude their more seasoned colleagues. Their freshman effort would shine even brighter, though, if  -- much like their leading duo -- they let the film's heart speak for itself, and take flight over the fray.