Lady Gaga Gives Fan A Pair Of 'Chemo Shoes'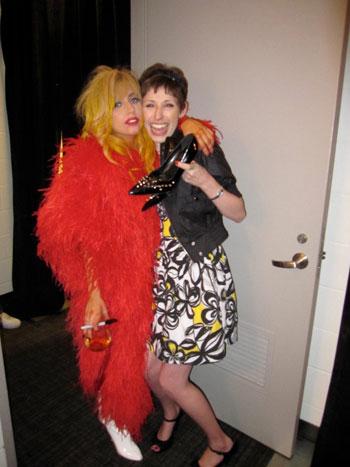 Lady Gaga has always been vocal about making sure her fans, or "little monsters," know how much they mean to her. So it was no surprise when she met up with a special admirer after a recent concert. RadarOnline.com has all the details of the touching moments.
Through the Dream Foundation, a leukemia patient named Noelle lived out a dream of seeing Lady Gaga perform live. The night only got better when she later got to meet her singing idol backstage.
Article continues below advertisement
"Noelle's eyes widened with excitement as Lady Gaga herself entered private waiting room to visit her. She had just danced and sang her booty off for two hours and now she was giving her time to Noelle. And time she gave. Having witnessed many meet and greets, I was thrilled that Lady Gaga shared with me the sense that there was no greater place to be than with Noelle in that moment," wrote Thomas W. Rollerson of the Dream Foundation.
BIKINI PHOTOS: Lady Gaga in St. Tropez
Gaga shared her own words of wisdom and she and Noelle spent more time together: "They may say you are sick, but all I feel is how alive your spirit is. Listen to yourself and believe in your will. I want you leaving here loving yourself more than you love me. You are so beautiful."
Later, Gaga randomly asked Noelle what shoe size she was before running out of the room. She soon returned with a pair of studded black heels.
Article continues below advertisement
"These are your Chemo shoes!" exclaimed Lady Gaga. "Next time you have to go to Chemo, walk in there wearing these and remember your are a superstar. No illness can take your inner-beauty or your spirit of life away. You are beautiful!:
The singer then signed the bottom of the shoes before giving Noelle a big hug.
RELATED STORIES:
Lady Gaga: Prop 8 Overturning Felt Like A "Revolution"