Boy George Slams Lady Gaga Over Cocaine Confession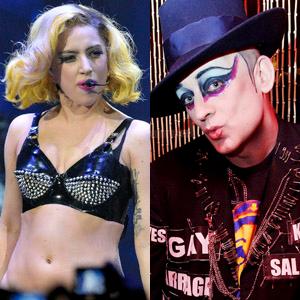 Lady Gaga's recent confession that she uses cocaine occasionally has left one music colleague snorting in disbelief.
Boy George, who battled drug addiction for years, has gone public slamming Lady Gaga over her Vanity Fair interview.
"Could it be that her use of coke is not so 'occasional'?" he asks in a blog written for Papermag.com.
He added: "As a recovering addict who knows how dangerous 'occasional' use is, I can think of no reason for Gaga to reveal this to her young audience. My mum had the best take on this "she's reached the stage where she feels untouchable, you all get there -- you did, son." I can't argue with that!
Article continues below advertisement
"One has to wonder how much of a grip Gaga has on things."
Boy George had a well-publicized heroin addiction and also served time behind bars for assault and false imprisonment of a male escort.