It's Always Sunny In Philadelphia Actress Kaitlin Olson Has Baby Boy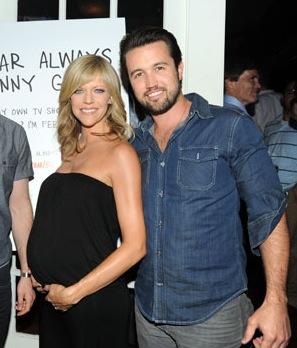 They scored a home run! It's Always Sunny in Philadelphia co-stars Kaitlin Olson and Rob McElhenney wecomed their first child on Wednesday, but they almost had him at Dodgers Stadium!
Axel Lee McElhenney was born on September 1st after she went into labor at a baseball game, the proud mom Kaitlin said in a statement released Thursday.
VIDEO: Miranda Kerr's Baby Bump Revealed
It read, "I went into labor at the Phillies/Dodgers game on Tuesday night. As soon as Ryan Howard hit a 3 run home run, we felt comfortable leaving to go have our baby. Axel Lee McElhenney was born at home on September 1st at 12:52 pm. 8 lbs 7oz. We love him like crazy, even though he made us miss the second half of the game."
Article continues below advertisement