VIDEO: Miranda Kerr's Baby Bump Revealed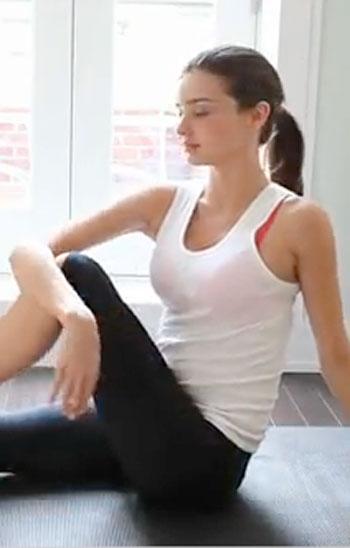 Miranda Kerr has revealed her baby bump for the first time. RadarOnline.com has obtained a video of Kerr promoting her new organic skin care line Kora that clearly shows her expanding waist line.
The Victoria's Secret angel, 27, has kept her tummy under wraps since announcing she is expecting a child with husband Orlando Bloom.
Oh Baby! Miranda Kerr Confirms She's Expecting With Orlando Bloom
In the promo, the Australian model promotes a healthy, organic lifestyle from buying from farmer's markets to exercising.
Article continues below advertisement
She shows off her pregnant belly for the first time as she demonstrates yoga in a tight white TANK top and black leggings.
"We can choose to fill our bodies with nutrients through eating organic foods," she says in the ad.
"We can choose to value our bodies through exercise whether it be yoga, running or whatever appeals to you. By taking the time out to really relax and rejuvenate and reflect."
Kerr and Bloom, 33, got married in July and revealed their baby news two weeks ago.
"Yes, I am pregnant. Four months along," Kerr told Spanish Vogue, adding how hard it has been to keep the news quiet.
"I remember on one occasion in the early days of my pregnancy, when it was still too soon to say anything, I had a dreadful time at one job."
The couple began dating in 2007 but did not hit the scene publicly until April 2008.