Exclusive
EXCLUSIVE: Mariah Carey Four Months Pregnant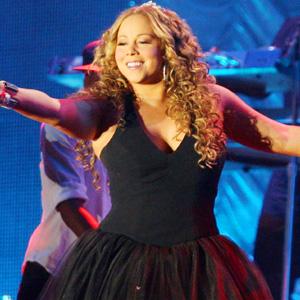 Mariah Carey is four months pregnant, RadarOnline.com has learned exclusively.
The Hero singer and husband Nick Cannon are overjoyed but have decided not to talk about the pregnancy publicly.
Privately, however, it's a different story, according to one source who tells RadarOnline.com that Nick is sharing the great news with close friends only.
On Monday, Nick again dodged the pregnancy question.
"I've said it before and I'll say it time and time again -- when my wife feels like talking about whatever she wants to talk about, you will hear it directly from her," he said on his radio show on New York's 92.3 FM.
Article continues below advertisement
Despite his public hesitation to confirm the news, RadarOnline.com's insider says, "Nick has been telling friends how excited he is to be a dad."
"Mariah has tried so hard to get pregnant," a source told RadarOnline.com, adding that the singer has no plans to announce her pregnancy in the near future. The source adds that Mariah has passed the four month mark in her pregnancy.
Mariah performed in Brazil last weekend, and her appearance had many speculating that she is pregnant.
Blogs, like dishinthedirt.com, had a field day with the recent trip where she showed off a noticeable baby bump while performing at a festival. "Seriously, I really do love it here, beautiful people inside and out! Tonite was tuff 4 me 4 personal reasons,but U got me thru!L4L," Carey tweeted after the show.
"She definitely wanted to get pregnant," the source added.
"She's very excited. She wants to wait as close to full term as possible before going public with the news to her fans."