Exclusive
EXCLUSIVE: Sacre Bleu! Kim Kardashian Breaks Louvre Rules By Taking Photo With Mona Lisa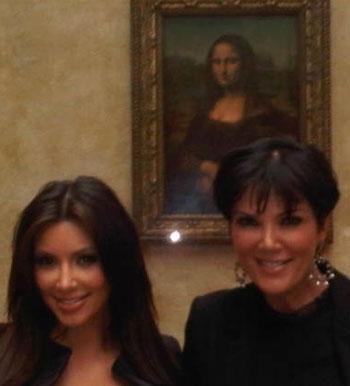 Kim Kardashian and her mom Kris Jenner took a photograph with the Mona Lisa while visiting the world famous Louvre Museum in Paris but RadarOnline.com has learned taking pictures of the painting has been banned since 2005.
According to official Louvre visitor rules, the use of flash photography is strictly prohibited in permanent collection rooms and "visitors may not take photographs" of any kind in temporary collection rooms.
Article continues below advertisement
The use of a flash is evident in Kim's photo as you can see the reflection of the flash on the lower right corner of the frame of the Mona Lisa.
Kim posted her photo on Twitter using a mobile application for cell phones, which means the Keeping Up With The Kardashians star broke yet another Louvre rule: no cell phones.
"Visitors may not use their cell phone…in any room of the museum," the visitor rules state.
The Board of the Louvre's decision to ban photographs in certain areas of the museum, including by the Mona Lisa, took affect on September 15, 2005 – five years ago to the day that Kim took her picture with the famed Leonardo da Vinci painting.
Louvre administration does allow professional photos and filming on a case-by-case basis but there are fees for commercial endeavors and a lengthy application process.