PHOTOS: Bonjour Mademoiselle -- Kim Kardashian Meets Mona Lisa In Paris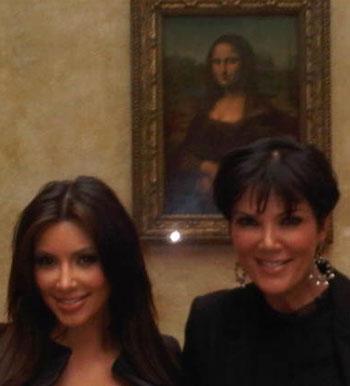 Kim Kardashian and her mom Kris Jenner have been taking in the sites during their visit to Paris, France where the two snapped a picture with the most famous painting of all time – the Mona Lisa.
Despite the masses of fans and paparazzi following the Keeping Up With The Kardashians stars, the mother-daughter-duo toured the Louvre Museum on Wednesday morning.
Kim posted a photo of her and her mom posing with the Mona Lisa on Twitter saying, "Hey Mona Lisa!"
Article continues below advertisement
While Kim has been known to famously date football players, she's recently picked up a pension for a new sport – golf.
"Golfing in Paris! This is unreal!" Kim tweeted. "I'm a better golfer than I thought! My new fav sic hobby!"
Kim and Kris are doing up their Paris trip in style, staying at the swanky Hotel Ritz and shopping at the upscale boutique Hermes.
RELATED STORIES:
VIDEO: Sneak Peek Of Kim And Kourtney Kardashian's New Clothing Line
MORE ON:
Keeping Up With the Kardashians